By Reece Rutland – Rend Lake College Public Information 
INA, Ill. – The Rend Lake College Foundation's mission is to represent a partnership between public and private interests for the benefit of Rend Lake College students. Newest among those guiding that mission is Rodney Cabaness co-owner of two local Harley-Davidson dealerships and 2016 RLCF Alumnus of the Year.
Comprised of community members, business leaders and philanthropists, the Board of Directors has helped guide the RLCF in providing unparalleled student success though their scholarship endeavors and provided the college with vital resources for maintaining the national-recognized service its students have come to expect.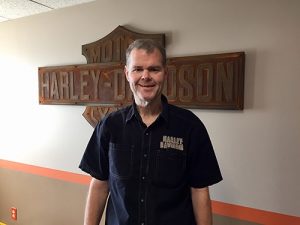 "Rodney's business acumen, coupled with his deep connections to Rend Lake College and his passion for helping others will be a tremendous asset to the Foundation Board of Directors.  We have entered a new time where private support is becoming crucial to the sustainability of community colleges," said RLCF Chief Executive Officer Kay Zibby-Damron.
"The RLC Foundation is very fortunate to have such a dynamic group of prominent business leaders and professionals on our Board of Directors to help us ensure Rend Lake College and our students have the resources they need today and into the future. I am grateful for Rodney's commitment to serve on our board and very much look forward to working with him."
Cabaness, a Sesser native, started Black Diamond in 2007 with his business partner, co-owner and fellow RLC alum Shad Zimbro. Together, the pair built a company devoted to their community, stocking food pantries, fillings children's backpacks and providing numerous scholarships.
Given the good works that Cabaness was already known for and the ties to his alma mater, he made a natural fit for the RLCF Board of Directors.
Every year 12 area youth are able to attend Rend Lake College because of Black Diamond's generosity.
Cabaness is excited to bring Black Diamond trademark care for the community to Mt. Vernon with the recent acquisition of Roadhouse Harley Davidson.
"When attending and graduating from Rend Lake College in 1990, I didn't realize how crucial that time in my life was going to be to my success," Cabaness expressed.
"Now that I can fully appreciate how much RLC impacted my life, it is truly a great privilege to be able to give back by serving as a member on its foundation board. The Rend Lake College Foundation does so much to help so many people and I'm very proud to be a part of it."
To date, Black Diamond Harley-Davidson has sold almost 12,000 motorcycles and regularly ranks near the top of all 700 Harley-Davidson dealerships in the nation. They have sold a motorcycle in almost all 50 states and have received numerous awards and recognitions for their community-first approach.
"We are just constantly trying to share our appreciation of what the community has done for us. We just received so much support. We have a commodity. We sell a lot of different things. But, I really feel like we offer a lifestyle. So, we try to create those relationships with people. We never had any idea how much support we would receive. We knew the area would be good to us, but we never dreamed it would be the meteoric rise that ended up happening. We were basically flying by the seat of our pants for the first few years just trying to figure it out as we went. We never expected the growth. We just set out to make it always about the people that walked through our door," Cabaness said in his Alumnus of the Year speech.
For their part, the RLCF is always seeking dedicated individuals willing to invest in the individual growth of the many students who attend the college by investing in campus and community growth and economic development.
Last year alone, the RLCF handed out 255 scholarships worth $200,000 to help students see their dreams turn into reality.
Anyone interested in giving to the RLCF to assist in student success or students seeking scholarship opportunities to Rend Lake College can visit https://www.rlc.edu/foundation or call (618) 437-5321 Ext. 1214 for more information.