By Reece Rutland 
NOTE:  This is a series that featured the Rend Lake College Board as a whole.  I decided to break it down individually.  Today, Randall Crocker of Sesser will be featured. sd
Randall Crocker is a two-time board of trustees member, having served from 1997-2009 before being reappointed to the board in 2013 to fill a vacant seat. In 2015, he was elected to an additional four-year term on the board.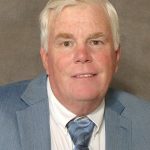 "We are glad to welcome Randall back to our board. He brings plenty of experience from his earlier service, and he continues to be a strong supporter of Rend Lake College," said President Wilkerson at the time of the appointment.
Crocker is a long-time member and chair of the Franklin County Board and owns and operates Crocker Insurance Agency in Sesser with his son Brett.
"I'm very pleased with the way the college is being run. I don't have any specific goals in mind, but I want to support the administration, because I think they're doing a great job," said Crocker.
A former RLC student himself, Crocker is now tied for fourth-longest tenured trustee. He will have sat on the board for a total of 18 years when he completes his current term. Only Marvin Scott (35 years), Dr. Richard Simpson (23 years) and Dr. Allan Patton (22 years) have served longer. David Edmison also served as a trustee for 18 years.