This is the second in a series of columns I am writing based on the verse Isaiah 9:6.  The verse below is the first verse most of us learned in Sunday School.  It is the gospel in a nut shell.
For God so loved the world, that he gave his only begotten Son, that whosoever believeth in him should not perish, but have everlasting life. (John 3:16 KJV)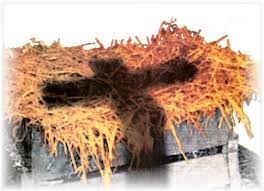 I have one son.  I am sorry but he would be very hard to give up so that you can live.   God sent his son to this earth for one reason, to die on a cruel rugged cross for my sins as well as yours.  There is no greater love that can be expressed than God giving us his son Jesus.
The worse feeling in the world is having a sick child.  When they were babies, it was really frustrating because they would be fussy and cry.  I know people who have lost a child.  There is a pain that does not heal.  Just imagine how God felt.
Some theologians disagree with me on this.  I believe that God had to turn his back when Jesus was on the cross, because he could not stand to see the pain and suffering he was going through.  Some say that God could not stand to see the filth of our sin.  I believe that is partially true, but keep in mind that was his only son.
The babe was born in a manger, went to the cross and died for our sins.  He rose on the third day.  He is coming back again.  The Holy Spirit works in our life on a daily basis and is a guide in all things.
When I had this idea of writing this, the thoughts of the first verse of a classic song written by Bill and Gloria Gaither came to mind:
God sent his son, they called him Jesus,
He came to love, heal and forgive.
He lived and died to buy my pardon,
An empty grave is there to prove my savior lives.
Because he lives
I can face tomorrow
Because he lives
All fear is gone
Because i know he holds the future
And life is worth the living
Just because he lives
Just think of the best Christmas gift you have received. It was freely given by love.  Jesus came to give you the ultimate free gift.  Let his verse sink in.
For by grace are ye saved through faith; and that not of yourselves: it is the gift of God:  Not of works, lest any man should boast. (Ephesians 2:8-9)
Christianity is not a religion it is a relationship with Jesus.  It does not matter what name you have on the door, If you know the Lord you are my brother or sister.
Grace is a free unmerited gift that can not be earned.  None of us deserve it.  Our heavenly father loves us so much that he made the gift of salvation available to all.  Good works does not get us to heaven.  Being a sinner saved by grace does.
Steve Dunford is a guest columnist for franklincounty-news.com.  He is a rotten sinner that has accepted the free gift of salvation, it is available to everyone.