Vera Romani 75 passed away April 12, 2014 after a brief illness.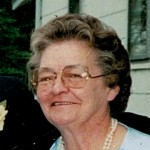 She was born to Ole and Vera Olson in Oak Harbor, Washington on August 23, 1938,
She married Humbert (Humpy) Romani on October 30, 1953.  He preceded her in death on March 14, 2001.
Vera was a homemaker and also helped her husband in several businesses they owned.
Survivors include her children Victor M. Romani and wife Trisha of Sesser.  Annette Easter and husband CJ of West City, Darren M. Romani and wife Kimberly of West City, Teresa Hammond and husband Gale of Hendersonville, Tennessee.
A sister Dorathy (Tootsie) Gilbert and husband Eugene (Dud) of Oak Harbor, Washington, and a brother Hans (Swede) Olson and wife Marlene of Oak Harbor, Washington, and several nieces and nephews also survive
She is also survived by 17 grandchildren, 18 great grandchildren, and 1 great great grandchild.  She will be sadly missed.
She was preceded in death by her parents, a brother Robert Olson, sister Nanny Lewin, and five children Tina Romani, Leslie Romani, Diana Romani, Lisa Sisney, Christopher Romani, one grandchild, and three great grandchildren.
Funeral Service will be Wednesday April 16, 2014 at 11 a.m. at the Brayfield/Gilbert Funeral Home in Sesser. Officiating will be Father Peter Balili,   Visitation will be Tuesday April 15, 2014 after 6 p.m. at the funeral home.  Interment will be in Maple Hill Cemetery in Sesser.