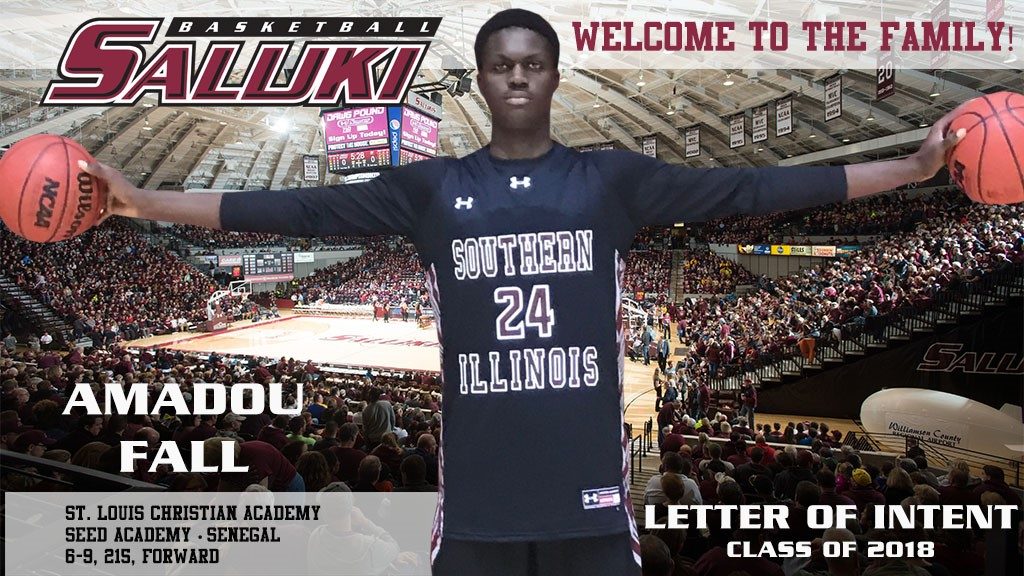 CARBONDALE, IL. — Southern Illinois has signed 6-foot-9, 215-pound forward Amadou Fall to a National Letter of Intent, head coach Barry Hinson announced on Wednesday.
A native of Senegal, Fall will play a post-graduate year in 2017-18 at St. Louis Christian Academy and will be a freshman at Southern next fall. He has spent the last two years at SEED Academy in Africa. Launched in 2002, the SEED Academy is the first basketball student-athlete academy in Africa. Up to 40 high potential student-athletes, boys and girls, live, train and work towards achieving their goal of attending university.
"Every once in a while as a college basketball coach, you're able to find someone that no one else knows about," said SIU head coach Barry Hinson. "We discovered Amadou, literally, a week or two after he arrived in the States."
Fall is the seventh foreign-born player Hinson has signed during his six seasons at SIU and the fifth from Africa — the most recent being Bola Olaniyan (Nigeria), Ibby Djimde (Mali), Deng Leek (Sudan) and Thik Bol (Sudan).
"We've developed an African tradition of recruiting since I've been here," Hinson said. "We've always had somebody from Africa on our squads as long as I've been here as a coach and we've had great success with these young men."
Fall joins a 2018 recruiting class that also includes Carbondale High School point guard Darius Beane and Lincoln Way-East forward Sam Shafer, who both signed last week.