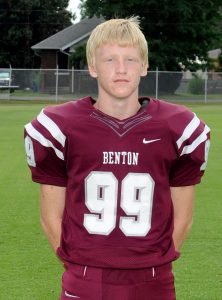 Today's Benton Football Senior Spotlight is on senior wide receiver, defensive back and kick returner, #99 Bailey Hopson.
Bailey is the son of Nancy Lingle and Billy Hopson and has been playing football for ten years. He loves football, hanging out with the boys and playing video games.
Bailey plans to attend college next year somewhere to get his education.
He would like to thank his mom and dad for pushing him to do better at everything he does. Bailey also wants to thank the Corn family, the Cosby family and the Sharp-Galiotto family for supporting him throughout his life. Bailey says, "I couldn't have done it without these people."