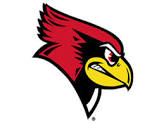 The Redbirds place four in double figures, as C.J Johnson had a game high 15,  Kyle Hammers 14, Lucas Wolfe, 12 and Bradlee Crosilin 11.
Carson Burtis led the Bulldogs with 14. Isaiah Salsbury and Dalton Lambert had 13 for the bulldogs.
The Redbirds fall to (4-14) on the season and (0-5) in the SIRR-Ohio.  They travel to Anna-Jonesboro tonight, at team they lost to 55-51 in overtime in the Midwinter Classic last week.
Harrisburg improves to (17-4) and (4-1) in the conference.  They are idle until next Friday night when Joe Hosman's Massac County Patriots visit Davenport Gym.
Please click on the link from Michael "Spyder Mann" Dann of the Harrisburg Daily Register
http://www.dailyregister.com/sports/20180126/harrisburg-hangs-on-to-win-at-west-frankfort