Irene (Rozenski) Wisnoski, 95, of Sesser, IL passed away peacefully on June 17, 2020 at Winfield Woods Health Care in Winfield, IL.
Beloved wife of the late Mike Wisnoski, Irene is survived by her daughters Paula Polak (Michael) of Chicago, IL, Patricia Fiorino (Steve Shapiro) of Winfield, IL, and Charlotte Conner (David) of Champaign, IL; her six grandchildren: Lisa and Jason Polak, Katie (Matt Roberts) Fiorino and Connie (Ethan Luke) Fiorino, and Brooke (Zachariah Burton) Conner and Julie (Andrew) Ohanesian; and her four great grandchildren, Beatrix Luke, Quinn Burton, Oliver Fiorino, and Clyde Ohanesian.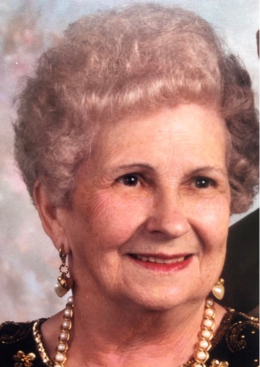 Preceding her in death were her husband, Mike Wisnoski, her parents, Bill and Anna Rozenski, her brother, Paul (Edna and Lorraine) Rozenski and sister, Carolene (Michael) Powenski.
Irene was born on October 15, 1924. She and her mother owned and operated Rozenski Grocery until its closure in 1980. While he was delivering milk to her store, she met her husband, Mike Wisnoski. They married on November 2, 1946 and remained devoted to each other until his death on April 6, 2013.
Rozenski Grocery was a special place for the people of Sesser when they were struggling with unemployment or having difficult times because Irene and her mother sold food on credit for those needing the help. No interest was charged. Customers could pay their grocery bills when they went back to work.
She spent her life in service to her family. She and Mike built a home on Lucretia Street across the street from her mother's house. In that home, they raised their three daughters and later hosted countless family gatherings with their daughters, sons-in-law, and grandchildren, who returned to Sesser for holiday and for Sesser Homecoming. Irene's home was decorated with photos of weddings, birthdays, and other events, creating her own small museum of her family's adventures throughout the years.
A devout Catholic, Irene was a member of St. Mary's Church and was a member of the Altar Society. She was a devoted caregiver to her mother and her husband in their later years.
The family would like to thank the staff at Winfield Woods Healthcare and ALC Hospice for their compassionate care.
Private Graveside services will be held at the Maple Hill Cemetery in Sesser on Saturday, June 20, 2020 at 1 pm. Brayfield-Gilbert Funeral Home in Sesser is handling the arrangements.
In lieu of flowers, donations may be made to St Jude's Children's Hospital or to the Sesser-Valier Ministerial Alliance and will be accepted at the funeral home.
For more information go to our website www.gilbertfuneralhomes.com