Jimmie Lee "Pup" Cockrum, 70, formerly of Sesser, passed away Wednesday, August 10, 2022, at his home in Dieterich.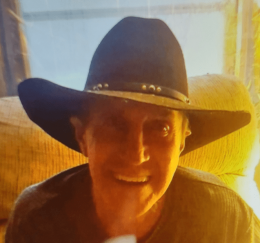 Jimmie Lee was born May 28, 1952 in Benton, Franklin County, Illinois, Route 183 by the "Big Muddy River", to Lemuel Franklin and Christina (McCann) Cockrum. He spent most of his adult life at the race tracks, grooming, exercising, and riding race horses.
He is survived by his daughter, Jodie Cockrum of Oklahoma City, Oklahoma; son, Troy Wayne Cockrum of Tulsa, Oklahoma; two grandchildren, Khadence and Skillar Cockrum; sister, Shirley (John) Ketteman of Pleasant Valley, Missouri; Aunt Maze Hamilton; several nieces, nephews, and cousins.
Jimmie was preceded in death by his parents; his brother, Frankie Gail Cockrum; his sister-in-law, Sherry Lynn (Dilliner) Cockrum and great-nephew, Trenton Gail Cockrum.
Per Jimmie's wishes, he was cremated and no public services will be held. Bauer Funeral Home in Effingham is assisting the family. Online condolences may be expressed at www.bauerfh.com.