Gary Dean Nave, 84, of Benton, IL passed away Sunday morning July 5, 2020 at SSM Health Good Samaritan Hospital in Mt. Vernon.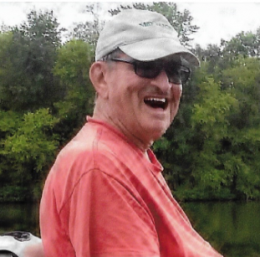 Gary was born in Blackwell, Oklahoma on April 26, 1936, the son of Carl & Edna (Suenram) Nave.
Mr. Nave married Patricia Unger at St. Adrian's Catholic Church in Chicago, Illinois on October 13, 1956.
Gary was a huge hunter and fisherman and he loved being in his boat.
Mr. Nave is survived by his wife of 63 years, Patricia Nave of Benton, children Monica Ryan, of Chicago, Michelle Caffero, of Chicago and Mary Nave-Wurtz, of Highland Park, IL; grandchildren Elizabeth Ryan, Joe Ryan, Matt Ryan, Nicole Caffero-Garcia, Rene Caffero and Sophia Nave-Quartararo and one great-grandchild, Angelina Del-Cid.
Mr. Nave was preceded in death by a son, James Dean Nave and by his parents.
A Memorial Service will be announced at a future date.
For more information or to send online condolences please visit www.mortonjohnstonfuneralhome.com