Jack Ernest Lohmann, age 62, of Benton, passed away Monday, February 11, 2019 at his sister's home.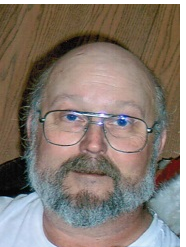 Funeral Services will be held at 1:00 p.m. Saturday, February 16, 2019 at the Leffler Funeral Home of Benton, with Rev. Mark Minor officiating. Visitation will be from 11:00 a.m. to 1:00 p.m. Saturday at the Leffler Funeral Home of Benton. Private family burial will take place at the Masonic and Odd Fellows Cemetery of Benton.
Jack was born on January 22, 1957 in Benton, the son of Glenn Lohmann, Sr. and Ella Bell (Walters) Lohmann. He was married to the former Georgia Ezell for 34 years until their recent divorce two months ago.
Mr. Lohmann formerly was an over-the-road truck driver, driving for Shawnee Trucking out of Herrin, IL.
He attended the Whittington Church.
Jack enjoyed attending auto races, loved anything NASCAR, liked fishing, but most of all loved spending time with his family.
Surviving is a sister Bobbie Arnold of Benton; a brother Glenn Lohmann, Jr. and wife Janet of Benton; his ex-wife Georgia (Ezell) Lohmann of Benton; five step-children: Brandon Smith and wife Chelsea of Benton, Jamie Cornelison of Benton, Tiffanie Crabtree of Benton, Chastity Smith of West Frankfort, Zina Smith of Marion; eleven grandchildren: Jersey Smith, Halle Smith, Charli Smith, Reese Cornelison, Bradley Williams, Chasen Cornelison, Skye Carlyle, Zachary Hancock, Pierse Hancock, Brianna Ezell and Savannah Ezell; and several nieces, nephews and cousins.
Jack was preceded in death by his parents, a step-son Scott Ezell; and a brother-in-law Eddie Arnold.
Memorial contributions may be made to the Leffler Funeral Home to assist the family with expenses.
To leave online condolences to the family, or to share memories of Jack, visit www.lpfuneralhome.com