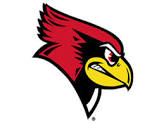 WEST FRANKFORT — Du Quoin blistered the nets in the first three quarters taking a 28-point lead at one point to win its third game in a row with a 67-52 win over West Frankfort in a cross-division River-to-River Conference boys basketball game Tuesday.
"They had several kids shoot the ball well from the perimeter and when we finally got out to contest their shooters that obviously left open the middle, so it was pick your poison," said West Frankfort coach Kevin Toney. "They're athletic and skilled and they can all shoot it and they give us some difficult matchups because of their size and length. I was glad our kids hung in there and competed in the second half."
Kyle Hammers led the Redbirds with 13 points with Gavin Gaylor and Brendan Russell finishing with eight points each.
Please click on the link for the full story from Geary Dentison of the Southern Illinoisan.
http://thesouthern.com/sports/high-school/basketball/boys/boys-basketball-du-quoin-gets-past-west-frankfort/article_c9e2ea9f-12b1-561e-9c10-84bee0d9ac2e.html