CHRISTOPHER — Bert Venegoni Jr., (Humbert J. Venegoni) 83, passed away at 12:50 p.m. Oct. 15, 2015, in Good Samaritan Hospital in Mount Vernon.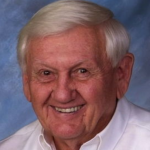 Bert Venegoni Jr. was born Sept. 30, 1932, in Christopher, the son of Bert Sr. and Tina Venegoni.
He married the former Grace Hicks on March 8, 1952.
Bert Venegoni Jr. attended Christopher High School, where he played football and basketball.
He then served his country in the U.S. Army, stationed overseas during the Korean War. For his service, Bert Venegoni Jr. was awarded the Korean Service Ribbon with three Bronze Service Stars, the National Defense Service Medal and the United Nations Service Medal.
After returning home, Mr. and Mrs. Bert Venegoni moved to Chicago where he attended the Deforest Radio and Television School in Chicago. The family then moved to Springfield, where he was the owner of a contracting company. For the past three decades, Bert was the owner and President of B&G Venegoni Distributing, Inc., an Anheuser-Busch Distributor, until his retirement in early 2015.
Bert Venegoni loved spending time with his family and friends, gardening, fishing, and was well known as a successful businessman in the Southern Illinois area. He will be remembered for his sense of humor, zest for life, and as a loving husband, father, grandfather and brother.
He is survived by his wife of 63 years, Gracie Venegoni of Christopher; three children, Lisa Lowery, and husband, Rob, of Benton, Laura Schneider, and husband, John, of Town and Country, Missouri, Randy Venegoni, and wife, Marcia, of Christopher; seven grandchildren, Mathew Schneider of St. Louis, Kyle Schneider of Chicago, Christopher Lowery of Benton, Nicholas Schneider of St. Louis, Ryan Lowery of Benton, Lauren Venegoni and Garrett Venegoni of Herrin; sisters, Josephine Byars, and husband, Glenn, of Marion, Catherine Browning and husband, Bill, of Springfield; and several nieces and nephews.
He was preceded in death by his parents.
Visitation will be from 4 to 8 p.m. Sunday, Sept. 18, at Gilbert Funeral Home in Christopher. Private burial services will be at a later date.
In lieu of flowers, memorials may be made to the American Cancer Society or the Lung Cancer Foundation of America and will be accepted at the funeral home or by the family.