Nada Darlene (Gray) Thompson, 62 passed away on February 16, 2015 at St. Anthony's Hospital in Oklahoma.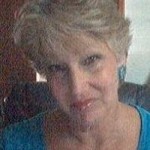 Nada was born on August 10, 1952 to Malcolm and Eunice (Winget) Gray. She was preceded in death by her parents and two brothers Charles Gray and Del Gray.
She is survived by two daughters Angela Perry and her husband David Perry of Nashville, TN, and Rachel Sisney and her husband Joshua Sisney of Mulkeytown. Nada also had four grandchildren Anthony, Makayla, Mallory and Simon.
Angie and Rachel would like to say thank you to their extended family, Pam Thompson and Melissa Nettles for being there and taking care of their mother during her time of need.
Funeral services will be on Sunday February 22, 2015 at 2 p.m. at the Gilbert Funeral Home in Christopher. Visitation will be on Sunday February 22, 2015 from noon until the time of the service at 2 p.m. at the funeral home.
In lieu of flowers donations can be made to the family and will be accepted at the funeral home.
For more information go to www.gilbertfuneralhomes.com