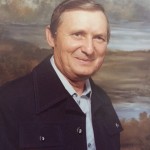 Charles Galayda, 93, passed away on March 3, 2017 at the VA Medical Center Nursing Home in Marion.
Charles was born on February 26, 1924 in Buckner, IL to Stephen and Anna (Krochta) Galayda.  He married Vera (Chamness) Galayda on November 9, 1947 and she survives of Buckner.
Other survivors include her children Susan (Mike) Rude of Marion and their children Michael "Andy" Rude of Manchester, NH and Dr. Thomas (Jessica) Rude of St. Louis; Elizabeth (Patrick) Boyland of Vienna and their children Page (Jamie) Kirkpatrick and their children Camben, Olivia, and Isla all of Royalton, Amanda Yosanovich and her children Drake and Charley all of Buckner; Chuck (Wanda) Galayda of Buckner; Toni (Darrell) Young of Buckner and their children Justin Young of Clearwater, FL, Kaylea Young of Buckner, and Jacob Young of Buckner. Brothers and sisters Michael (Joann) Galayda of West Frankfort, Steve (Jean) Galayda of Park Ridge, IL, Eli (Rose) Galayda of Buckner, Elizabeth (Virgil) Adkins of Mokena, IL and several nieces and nephews.
Preceded in death by his parents and three sisters Mary, Helen, and Estelle.
He was an avid Cubs fan, and a member of the DAV and American Legions in Christopher and Benton.
Funeral Services will be on Monday March 6, 2017 at 11:00 AM at the Russian Orthodox Church in Buckner with Father Frederick Janecek officiating.  Visitation will be on Sunday March 5, 2017 from 5:00 PM until 8:00 PM at the Gilbert Funeral Home in Christopher and also on Monday from 10:00 AM until 11:00 AM at the Russian Orthodox Church in Buckner.  Burial will be in the Russian Orthodox Cemetery in Buckner.
For more information go to our website at  www.gilbertfuneralhomes.com