BENTON — Andy Lee Williams, age 66, of Benton, passed away at 8:30 a.m. Tuesday, February 23, 2016 at his home.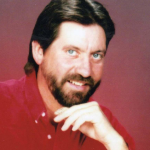 A Memorial BBQ and Celebration of Andy's Life, will be held at 2:00 p.m. Saturday, February 27, 2016 at the Kiwanis Hall located at 414 West Hudelson Street, Benton, Illinois; with Pastor Alan Newman officiating.
Andy's wishes were to be cremated. Cremation services are under the direction of the Leffler Funeral Home of Benton.
Andy was born on December 8, 1949 in Mt. Vernon, IL, the son of Ora Stanford Williams and Mary Catherine "Woody" (Woodring) Williams. He married the former Kathryn Ann Kinkade on February 27, 2004.
He was a master brick layer and a member of the Brick Layers Union.
Andy served his country in the U.S. Navy during the Vietnam War.
He was a former member of the Hazel Dell Free Will Baptist Church.
Andy enjoyed Harley Davidson Motorcycles, his dogs, horseback riding, fishing, gardening, spending time with his family, and barbecuing.
He is survived by his wife Kathy Williams of Benton; his mother Mary Catherine "Woody" Williams of Benton; five children: Shane Gostowski of Benton, Amy Williams of Rhode Island, Kim Williams of Rhode Island, Mason Williams and wife Jenna of New Orleans, Andrea Williams of Carbondale; four grandchildren: Ryan, Mason, Aaron and Amber; seven siblings: Guy Williams of Benton, Jimmy Fones and wife Edith of Pensacola, FL, David Williams and wife Debbie of Benton, Stanley Williams and wife Jean Ann of Benton, Jeanita Spillman and husband Merv of Benton, Terry Williams and wife Mary of Benton, Rita Arcieri and husband Kevin of Conroe, TX; his four legged family: Bailey, Spike, Buddy-Guy, Walter; and several nieces and nephews.
Andy was preceded in death by his father, father-in-law Nolen Kinkade, brother-in-law Russell Kinkade, and sister-in-law Jan Williams.
Memorials contributions may be made in memory of Andy, to the American Cancer Society, P.O. Box 22478, Oklahoma City, OK 73123.
To leave the family online condolences or to share memories of Andy, visit www.lpfuneralhome.com