By Steve Dunford 
MURHPYSBORO – Sesser-Valier was on the upside of a 73-48 win over their BDC West rivals, The Trico Pioneers last night 73-48,
I only was able to watch the fourth quarter, as I was having trouble with the streaming (on my end.)
Leading the way for Brian Laur's club was Logan Kirk with 21, Tanner Eubanks had 20, and Garett Gunter was the thrid Devil in double figures with 11.
Also in the scoring column for S-V was Peyton Bates with nine, Johsten Stanley and Clayton Bonner four, and Jaden Lance and Seth Loucks had two points each.
Caiden Snow, Jake Newburry, Zack Stnaley, Matthew Thery, and Matthew Galloway, played but did not score.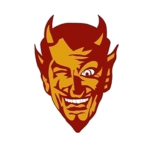 Sesser-Valier will face the Marion Wildcats, winners 53-46 over the Red Bud Musketeers last night.  They will play Saturday Morning at 11:30, in a consolation semi-final game.
Hamilton County  doubled up Thompsonville 46-23, and there is not a tactful way to say it, in an ugly one for David Payne's team.  They could not throw it in the Big Muddy last night, with the river above flood stage.
I knew coming in that T'ville would have their hands full with Hamco.  I remember from the Christopher Tournament a year ago that Garrett  Webb and Evan Shelton could flat out shoot it.  Zack Weaver was a good post player.
You throw Robbie Morgan in there (6′ 5″ freshman and still growing), and I knew the Tigers would have their hands full.   In my last conversation with Super Fox, he told me that Morgan can be the best to wear the Foxes uniform since Brian Sloan, by the time he is a senior.
I knew coming in it would be good experience for 6′ 4″ sophomore center Bryson Chullen, facing Morgan.
The Foxes looked like the "McLeansboro" days of David Lee and Curt Reed, slowing the ball down and playing tough man-to-man defense.  They double teamed Corbin Fitch and Grady Furlow most of the game.
The Foxes shot the lights out last night.  Playing as a JV team in the 2016 Chirstopher Turkey Tournament, they set the tournament record for made threes over the three game span.  Keep in mind that NCOE has been in the tournament the last two years.
Fitch led Thompsonville with ten, Chullen seven, Furlow four, and Seth Clark two.  Tristan Haskins, Huner McDonough, and Josh Sullivan played for the Tigers.
West Frankfort is still alive in the winners bracket, as the face the host Murphysboro Red Devils Thursday Night at 8:30.
I was a little more elaborate on the T'ville game because I was able to watch all four quarters.  I was not being a "homer."
I will stick with the Devils and the Redbirds as long as they are alive at Murphy.