By Steve Dunford 
GOREVILLE –  I have had several conversations with Zeigler-Royalton Coach Matt Morgan over the season and we talk alto about the "process."
The Tornadoes fell to Goreville last night 77-46 in a game that lasted a little over an hour.  The kids needed to get home last night experiencing freezing rain.  They are 0-18 on the season.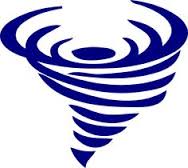 Here are some of my thoughts about the program.  They play in a loaded Black Diamond West.  There are three teams in the league that are very capable of playing in Peoria in Class 1A.  The other three schools are class 2A,
Being on the big stage and playing this type of competition, using a Dick Vitale term, "Diaper Dandies", will help in years to come.  I understand they have a good eighth grade class coming in.
I have said this earlier, look at the season Webber Township is having.  They only lost to Cahokia to nine points in the Pinckneyville shootout.  That is one of those "positive losses."
Thompsonville has won 12 out of their last 14 after a slow start.  These are two programs that endured winless seasons in recent history.  They will be getting T-shirts soon being 103.5 ESPN team of the week.
Webber coach Brad Beatty says he loves playing Z-R because coach Morgan has his kids play so hard, he does things right, and the most important part, they are good kids.
While watching the film this afternoon,  there were a lot of things the Tornadoes are doing right and have improved on.  They ran their offense, they did a decent job on the glass.
Z-R played last night without their 6′ 5″ freshman Gannon Dollins.  He is out with the flu.
The Tornadoes played a 2-3 zone.
Goreville goes on a 16-0 run then highlighted by a dunk in the closing seconds, to put the Blackcats up 41-12 at the half.
Z-R was down 60-31 after three, at the end of the quarter Trevor Mills hit a  buzzer beater for the Tornadoes.  He hits two more NBA threes in the fourth.
Coach Tripp subbed liberally starting about the two minute mark in the third quarter and Matt Morgan did all game.
Braden Webb and Cole Tosh led the Blackcats with 14 points on the night, Peyton Massey had 12, and Tanner Dunn 11.
Cole Sanders led the Tornadoes with 14, Trevor Mills 11, and Andrew Bisallion eight.
The Tornadoes host the Galatia Bearcats (8-15)  on Friday. Since I am very familiar with the GEC I am going to give you a scouting report.
They are the type of team that can beat anyone on any given night, and they can beat you on any given night as well.
They are very inconsistent and you never know what team will show up.  Recently they had a nice win over NCOE and lost in overtime to Elverado in a track meet.
They are led by guard Austin Stevens who can really chuck it from behind the arc.  They have some size in Austin Pritchett at 6′ 7″, Will Pulliam at 6′ 4″ and Ben Mitchell at 6′ 3″.  Pritchett is a shot blocker.  Pulliam and Mitchell are very physical and Mitchell can burn you with an occasional three.
Sophomore  A..J. Hankins is developing into a very good point guard.  Sophomore Braxton Lane is the first guard off the bench.  Noah Triplett and Garrett Beers sees time for Rodney Wallace's club.
Coach Wallace is in his second stint with the club.  He coached the Southeastern Illinois College women between stints.
They like to run.  If the team that shows up that finished last in the GEC tournament, it would be a chance to get your first win.  If they are hot, it would be a challenge.
On any given night Galatia can beat anyone in Southern Illinois, or get beat by anyone in Southern Illinois.
I know there will be a see of dark blue on Friday night.  Whether it be from being there live, watching the home game streaming from Goreville, or seeing pictures from Randall Risley, it has been great how you have been behind the Tornadoes this year.