By Steve Dunford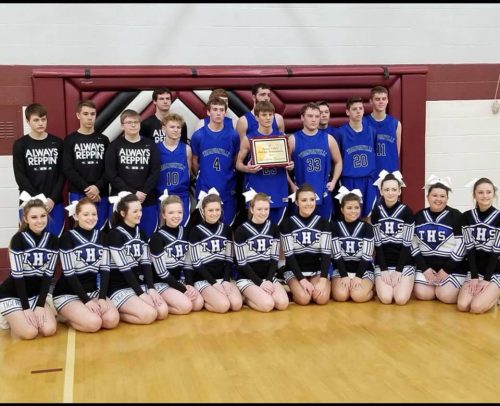 SESSER –   It was one of those games that defense won the battle.   Marissa-Coulterville was one of those teams that slid underneath the radar at the Sesser-Valier Holiday Tournament.  They gave the champions, Goreville all they wanted in the first round.
The Meteors reminded me of one of the old Curt Reed Hamilton County teams.  They do not take a bad shot.  They play tough man-to-man.  Point guard Cameron Bowlby waits for a good opportunity for dribble drive penetration.  They can shoot the three.
They held a Galatia team that likes to run to 36 points the day before.
The Tigers were patient on the offensive end, pounding the ball into 6′ 7″ center Anthony Darge as the Tigers win the consolation championship 43-41 on Friday.
The Tigers shot 60% from the field for the afternoon.  Just like the third place game and the championship that day.  The game came down to the final possession.
Corbin Fitch scored on a run out with around :30 on the clock to give the Tigers the lead for good.  A good defensive effort on the other end did not allow them to get off a decent shot.
Anthony Darge led all scorers on the afternoon with a game high 16.  Corbin Fitch added 12 for T'ville.
Cameron Bowlby was the only Meteor in double figures with 15.  The point guard was an all tournament team selection along with Thompsonville's point guard Tyson Kessler.
Thompsonville improves to (7-6) on the season.  This is the first time in several years the team has been over .500 this late in the season.  They will face their arch rivals the Galatia Bearcats (5-9) in a Greater Egyptian Conference match-up.  There are several teams knotted up in the conference race.  Here is a link to the GEC standings on A Baseline View.
http://abaselineview.com/abvstandingsgec.html
Marissa-Coulterville falls to (5-7) on the season.  They hit the road to face the New Athens Yellow Jackets on Friday.
Box Score 
THOMPSONVILLE (43)  Darge 8 0 0-0 16, Fitch 6 0 0-0 12, Raubach 3 0 0-0 6, Kessler 2 0 0-3 4, Roberts 0 1 0-2 3, Kirkman 1 0 0-0 2, Dixon 0 0 0-0 0, Bybee 0 0 0-0 0
MARISSA-COULTERVILLE (41)  Bowlby 5 1 2-4 15, Jones 3 1 0-0 9, Steinwaggoner 3 0 2-3 8, McHughes 2 0 2-4 6, Breshears 1 0 0-0 2
Line Score
THOMPSONVILLE (7-6)    13 – 6 – 12 – 12   –  43
MARISSA-COULTERVILLE (5-7)   9 – 12 – 15 – 6 -41