By Steve Dunford 
ELDORADO –  It was a gutsy effort in a 3:30 stretch for the West Frankfort Redbirds in the fourth quarter.  They found themselves down 52-37 right at the six minute mark.  With 2:32 on the clock Lucas Wolfe hits two free throws to complete a 15-4 run to cut the Eagle lead to 56-52.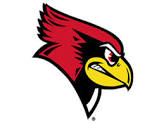 In the run there were two big threes by C.J Johnson and one by Keagan Thrash.  The Eagles showed why they were undefeated by not hitting the panic button down the stretch. They hold on to punch their ticket and face their Saline County rivals, the Harrisburg Bulldogs in a 64-55 victory.
The Eagles jump out to a 6-0 and 10-3 lead early.  It was not very pretty both ways as Eldorado had a 15-7 lead after one.
Coach Kevin Toney went eight deep into his bench in the second quarter and Cole Levanti, and Gavin Gaylor hit threes.  Josh Melvin had a couple of big buckets in the post. They were able to cut into the lead and were only down two points.
Joe Mayberry, the sixth Man for Eldorado puts on a shooting expedition himself and Eldorado led 36-24 at the half.
The Eagles found themselves in some foul trouble in the third quarter  The Redbirds capitalized by going a perfect 8-8 from the line.  After three, West Frankfort cut the lead to 8 at 46-38.
The Redbird rally came up short, as the Eagles keep their undefeated streak alive at 13-0.   West Frankfort falls to 2-6 on the season.  They will be facing the Anna-Jonesboro Wildcats this evening at 7 p.m.
Scoring for the Redbirds, Keagan Thrash was a game high scorer with 17, C.J Johnson 13, Josh Melvin 6, Gavin Gaylor and Kyle Hammers three, Lucas Wolfe and Bradlee Croslin with two points .
Scoring for Eldorado, Jacob Traxler had 16, Jon Meredith 15, Joe Mayberry 14, Braden Attebury nine,  Kale Olglesby eight. Ray May three, and Andrew Whitlock with two points.
Score By Quarters
ELDORADO (13-0)   15 – 21 – 10 – 18  –  64
WEST FRANKFORT (2-6)  7 -17 – 14 – 55