By Steve Dunford 
SESSER – I have been saying when this team would put a full 32 minutes together to watch out.  Last night they did that.  They shot 72% from the free throw line, which there have been a lot of games they shot around the 50% mark.   I don't know how many turnovers, there were a few in transition.
Most of all the Tigers had a big lead and held onto it.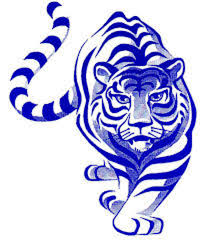 The Tigers won in a consolation semi-final match-up against the Odin Eagles 78-66, at the Sesser-Valier Holiday Tournament last night.  They will play the Marissa-Coulterville Meteors at noon today.
This is an Odin team that won the consolation bracket of the Metro East Lutheran tournament.  They own wins over Patoka and Farina- South Central.  Webber Township barely escaped Marion County with a three point win.
In the first half is was Corbin Fitch vs. Seth Nix.  Fitch with his dribble drive penetration picked up 16 in the half. Nix had 18 points, as he had the hot hand with back to back to back threes.
The Tigers jumped out to an 18-15 lead with point guard Peyton Roberts was eight points in the first quarter.
Odin was up 34-33 at the half.  There were seven lead changes and three ties in the second quarter alone.  The Eagles hit four of their 11 threes in that quarter.
The guards were who the battle with in the first half. In the second half it was the post players. Anthony Darge had 11 in the half.  The transfer from Waltonville, Caleb Jordan had 14.
It was still a see-saw battle in the third with five lead changes.  Thompsonville goes on a 16-5 run to give them a 64-52 lead just under six minutes to go in the game.
Odin could not get past the eight point hump in the fourth quarter.  Frustration set in and a Odin player was "T"d up.  (I will never call a kid out who gets one).  Odin coach Tyler Mitchell decided he wanted one as well,  a few possessions later.  The Tigers capitalized at the free throw line, and they held on for a 78-66 victory.
Leading Thompsonville was Corbin Fitch with 28, Peyton Roberts 20, and Anthony Darge was the third tiger in double figures with 15.
Seth Nix led the Eagles with 24.  Caleb Jordan added 18.
Tiger coach Pete Gordon had this to say about last night's game.  "It was a good win tonight. and all around it was our best game of the year. We executed our game plan."
"Defensively we were solid. Tyson (Kessler) and Zack (Kirkman)did a great job face guarding Shaffer. Peyton (Roberts) and Corbin (Fitch) were great offensively. I am proud of our effort and felt we competed on a new higher level."
Thompsonville improves (6-6) advanced to the Consolation Championship of the SVHT as we speak against the Marissa Meteors.
Coach Gordon had this to say about the matchup
Odin falls to (6-5) on the season.  They are off until January 9th when they make the short trip to Sandoval to take on the winless Hawks.
Box Score
THOMPSONVILLE (78)  Fitch 11 0 6-9 28, Roberts 1 5 3-6 20, Darge 6 0 3-4 15, Kessler 1 0 6-6 8, Raubach 1 1 0-0 5, Kirkman 1 0 0-0 2, Dixon 0 0 0-0 0
ODIN (66) Nix 1 7 2-8 24, Jordan 8 0 2-5 18, Friend 0 3 1-1 9,  Schaffer 0 2 2-2 8, G. Roberts  2 1 0-0 7, K. Roberts 0 0 0-0 0, Wood 0 0 0-0 0, Arnold 0 0 0-0 0
Line Score
THOMPSONVILLE (6-6)    18 – 15 – 23 – 22  –  78
ODIN  (6-5)    15 – 19 – 15 – 17  –  66