By Steve Dunford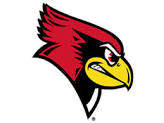 HARRISBURG – With the Rebdirds making a trip to Davenport gym for their SIRR Ohio division opener, I knew it would be an uphill battle.
The Bulldogs raced out to a 45-29 half time lead and never looked back, as they defeated West Frankfort 87-56 last night.
Isaiah Saulsbury had a game high 29 for Harrisburg last night. Dalton Lambert 13, Jordan Bartok 12, Carson Burtis was the fourth Bulldog in double figures with ten points on the night.
C.J. Johnson led West Frankfort with 22 points on the night, Kyle Hammers added 15, and Keagan Thrash added nine.
The Bulldogs improve to 5-1 on the season.  They have a late afternoon contest with the Meridian Bobcats.
The Redbirds are 0-5 on the season.  They have a two game home stand next weekend.  On Friday, they host that team the late Bruce Fasol used to call, "the team six miles to the north"
Satuday they host Todd Tripp's Goreville Blackcats.
Box Score
HARRISBURG (87)  Burtis 4 0-0 10, Drue 3 1-2 7, Saulsbury 11 2-5 29, Lambert 4 4-6 13, Bartok 5 2-2 12, Gibbs 0 3-4 3, Sigler 1 1-1 3, Storms 1 1-2 3 Sanders 3 1-2 7
WEST FRANKFOT (56)  Wolfe 2 0-1 4, Russell 1 0-0 2, Johnson 8 3-4 22, Hammers 7 0-0 15, Woolard 1 0-0 2, Thrash 3 3-5 9, House 0 2-2 2
Score by Quarters
HARRISBURG (5-1)(1-0)  27 – 18 – 22 – 20   -87
WEST FRANKFORT (0-5)(0-1)  12 – 17 – 14- 13-   56