By Steve Dunford 
WEST FRANKFORT – Since its inception in 1988, Candy Cane Lane has been a regional Christmas tradition, for people of Southern Illinois and surrounding states.
This was started by retired Frankfort Community High School Art Teacher and Volleyball Coach Tim Murphy.  It was a display at his home, with characters made by his art students over the years.
Since then path of lights sprawls over six city blocks, with the entrance on the 600 block of E Main Street just past FCHS.
I was able to speak with Murphy before Thanksgiving.  He said, "With the weekend of December 1st upcoming, opening it a couple of days early will help me get the bugs out of things."  
He also said,  "Several have asked me to open it on Thanksgiving Weekend.  It seems now that we skip over Thanksgiving and go right into Christmas.  I would like to reserve this for Chirstmas"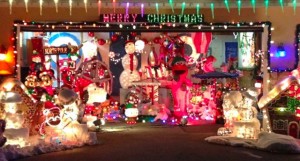 In the few days leading up to Christmas, there will be horse drawn carriage rides along the path.   I will be posting about them at a later date.
The weekends get quite busy.  The West Frankfort  Redbirds host the Benton Rangers and Goreville Blackcats, on the weekend of the 15th-16th.  This is something to keep in mind in planning your trip.
Murphy also made the suggestion in walking the lane, for a different experience.