Ronald Guy Merrill, aka "Eazy" age 66, of Benton, died Monday, November 30, 2015 at the
St. Louis University Hospital.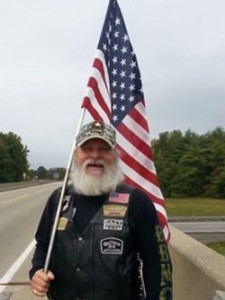 Graveside funeral services with military rites will be at 12:30 p.m. Monday, December 7, 2015 at Mounds National Cemetery, Mounds, IL, with Rev. Harol Whitlock officiating. Visitation will be from 5:00 p.m. to 8:00 p.m. Sunday evening at the Leffler – Poulson Funeral Home of Benton. Arrangements are through the Leffler – Poulson Funeral Home of Benton.
Ronald Guy Merrill was born on January 8, 1949 in Chicago, IL, the son of Robert Louis Merrill and Guyda Mae (Huffman) Merrill.
Ron had several titles and occupations including: truck driver, tow truck driver, respiratory therapist, fireman, paramedic, and registered nurse.
He was a U.S. Army Veteran of the Viet Nam War, having served in the Army from March 28, 1966 until March 7, 1969. Ron would later join the U.S. Navy on November 12, 1975 and serve in the Navy until May 25, 1976.
Ron was a member of the Band of Brothers Motorcycle Club, where he served as Sergeant at Arms of the Foxtrot Company.
He is survived by his four children: Brandy Merrill-Austin and husband Ronald Pierce of Benton, Michael Merrill and girlfriend Jodee Estel of Christopher, Veronica Merrill of Christopher, Stephanie Merrill of Benton; five grandchildren: Zachary Rock of Colp, Morgan Rock of Benton, Deanna Hays of Christopher, Jason Lampley of Benton, Mary Hays of Christopher; a great-grandson: Shawn Poe of Benton; a brother: Robert Merrill of Lebanon, MO; two sisters: Diane Glass of Beaumont, TX, Joanie Merrill of Fort Worth, TX; and club brother/son figure/ nephew: Robert Galant and wife Kerry of Sesser; and several nieces and nephews.
Mr. Merrill was preceded in death by his parents; a brother: John Merrill; and a grandson: Matthew Lampley.
To leave online condolences to the family or to share memories of Ronald, visit www.lpfuneralhome.com