Mrs.  Barbara J. Wyant, 81, of Benton IL, passed away at 9:45 p.m., Friday,  November 25, 2016, at Helia Healthcare of Benton.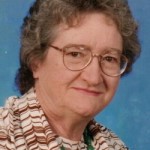 She was born on October 11, 1935, to William "Willie" and Ida Mae (Poynor) Heifner in Macedonia, IL.  Barbara was self employed as a babysitter and caretaker. She married John J. Wyant and he preceded her in death.
She was a member of Plasters Grove Free Will Baptist Church in Thompsonville, IL. Barbara was a loving mother, grandmother and great-grandmother. She was known to take care of children she had claimed to be her own. She would always make time to spend with her family and friends. If you left her home hungry it was your own fault.
Barbara is survived by her children, Jack Wyant and wife Jackie of Akin, IL, Ron Wyant of Dale, IL, Carla Dare and husband Jeff of Freeman Spur, IL and Beverly Wyant and Susie Minton of Herrin, IL; one brother, Jim Heifner and wife Patty of Akin, IL and one sister, Darlene Roberts and husband John of Dale, IL;  and many grandchildren and great-grandchildren.
She was preceded in death by her parents, William Martin and Ida Mae Heifner, husband, John J. Wyant, three brothers, John Heifner, Carlton Heifner and Charles Heifner and two grandchildren, Jeffery Conner and Tommy Sullivan.
Arrangements have been entrusted to Pate Funeral Home.
Visitation will be held Monday, November 28, 2016, from 4:00 p.m. to  7:00 p.m. at Pate Funeral Home, 301 S. Main St., Benton, IL.
Funeral services will be held on Tuesday, November 29, 2016, 10:00 am at the Pate Funeral Home, Benton, IL, with the Reverend Willie Huffine officiating.
For more information, please visit the website www.patefh.com
,