Richard E Morton, 78, of Benton,IL, passed away suddenly Monday, Jan 1, 2018 at Gateway Deaconess Hospital in Evansville, IN, with his son by his side.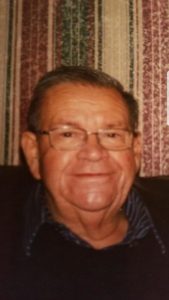 Richard was born in Benton, IL, on Dec 10, 1939 to Alex and Daisy (Nolen) Morton.  He married Ellen (Gilliam) on July 8, 1961.  Ellen died Aug 18, 2016.
Richard was a member of First Baptist Church in Benton, Benton Kiwanis Club, Benton Liars Club, past member of the Benton Zoning Commission and enjoyed participating in the car show on the square for many years.
Richard was the owner/operator of Morton and Johnston Funeral Home, along with Bruce Johnston and Darin Morton.  His legacy in life was assisting families with love and care with their deceased loved ones.  His compassion was making the difficult experience that comes with death less stressful on each person, handling every detail with perfection, going above and beyond for each family and bringing true professionalism together along with his friendship to all.  In his early business days, the funeral home also served as the ambulance service transporting the sick to the hospital in the Hearse.  Richard always had many memories to share and tales to tell thru out his business career.
Survived by: son Darin and wife Gay Morton of Benton, granddaughter Darian Alexandrea Morton, Benton, step grandsons, Kert (Shannon) Williams, West Frankfort, and Colton Williams, Benton,
Richard was preceded in death by his parents and wife,
Funeral services will be at 1:00 pm, Mon, Jan 8th at Morton & Johnston Funeral Home, 410 S Main St, Benton, IL.  Visitation will be Sunday, Jan 7th, from 5 to 8pm at Morton Johnston Funeral Home.  Burial will be at Masonic and Oddfellows Cemetery.  Pastors Bill Carter and Jim Jenkel will officiate.
Words cannot express our love in the outpouring of calls, inquiries and prayers sent to our family.  We Thank You so very much.
For more information or to sign the online guest register please visit www.mortonjohnstonfuneralhome.com