Darline F. McNeil 87, of Sesser IL, went to be with the Lord on March 25, 2017.
She was born May 3, 1929 in Sesser, IL to Eddie and Marie (Clapp) Bunton and they precede her in death.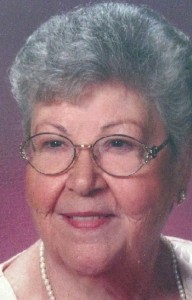 After attending the one room Bear Point School and graduating Sesser high school, Darline attended Alton Memorial Nursing School, graduating in 1950.  This began a lifelong career as a Registered Nurse.  Darline worked at Miner's Hospital in Christopher, IL and dedicated nearly 40 years of care giving at Franklin Hospital in Benton, IL.
In 1958, she married Harry J. McNeil of Herrin, devoting 19 years of love and compassion, caring for him until his death in 1977.
Darline was a lifelong member of Bear Point Free Will Baptist Church in Sesser.  She was the pianist / organist for over 30 years at Bear Point and played for an untold number of weddings and funerals throughout the Sesser area.  In years gone by, she was the leader of the Bear Point Youth Group where she was affectionately referred to as "The Warden."
Darline lead a full and very self-sufficient life caring for her family and those in the community and always tried to answer those "Nurse" questions that people came to her with.
Her brother and sister-in- law survive, W. A. "Sonny" and Marjorie Bunton of Sesser, and a special Aunt, Ms. Marie Clapp of Christopher.  "Her Kids," nephew Ralph Bunton (Cathy), nieces Virginia McCann and Mona Lappin (Mark) all of Sesser also survive.
Aunt Dar / Ami, is also survived by her great nephews and nieces, Rachel Bunton-West, Ross Bunton (Liz), Matthew Lappin (Brittany), Jared Blaylock, Josh Bunton (Jenny), Marcus Lappin (Reed), JB McCann (Sara), Meagan Bunton and Jake McCann,  as well as many great-great, nephews, nieces and cousins.
Funeral services will be Wednesday March 29, 2017at 1:00 P.M., at Bear Point Free Will Baptist Church in Sesser, with Rev. Larry Cook officiating.  Interment will be at Maple Hill Cemetery.  Visitation will be from 11:00 A.M. to 1:00 P.M. Wednesday at the church.
Arrangements have been entrusted to the Brayfield-Gilbert funeral home in Sesser.  For more information, or to share a memory, please visit their website at gilbertfuneralhomes.com.
In lieu of flowers the family suggests donations be made to the Bear Point Church Youth Group or a worthy charity of the donor's choice.
The family would like to thank, Hospice of Southern Illinois, the physicians and especially the nursing staff at Herrin Hospital for their care and thoughtfulness.