Gerald "Gabe"  McCarty, 83, of West Frankfort, IL , died at 4:45 pm on Sunday, July 3, 2016, at Carbondale Memorial Hospital, Carbondale, IL.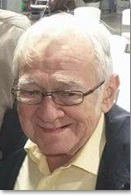 Mr. McCarty was born May 1, 1933, in Benton, IL, the son of  William and Cleo (Reynolds) McCarty.
Gabe was a  veteran of the United States Air Force,  serving in the Korean War. He was a retired sheet metal worker from SIU and a member of the First Baptist Church in West Frankfort.
He is survived by a son, Richard McMahan and wife of Mt. Vernon; a daughter, Roxie Loyd of Kansas City, Mo;  a granddaughter, Maggie Taylor of Arlington, TX; the love of his life, Avanell Fulton of Carterville, IL; special friend, Patty Garcia of Centralia, IL; several grandchildren and one great-grandchild.
Gabe was preceded in death by his parents, a daughter, Melissa Postnikoff of Fort Worth, TX and a sister, Ione Cardiff.
In 1958, Gabe started a band called the Four Vest Band. The band consisted for Gabe, Ron Head, George Warren and Vernon Mandrell and they played at local venues and teen towns. He continued to play bass in several bands. He had a beautiful voice and could play the bass, but couldn't do both at the same time but he did both well. In the beginning they called him "One String" because he only played one string but it was consistent and good. He eventually learned all five and was in demand as a bass player. Earl Sandusky, a great drummer, aptly renamed him "Little Caesar". Area musicians will be able to relate to these stories about Gabe. He continued to play music up until six months ago.
In 1963, before the Beatles were famous, George Harrison arrived in Benton, IL, to visit his sister, Louise Caldwell, who was presently living in America. George and Gabe became friends and Gabe took George to play country music in Muddy, IL. Gabe escorted George around the area to buy a new guitar here and to play in area too. Harrison remained friends with Gabe throughout the years and books have been written about both of them. George Harrison became famous with the Beatles on his return to England and Gabe was invited to go meet all the Beatles and followed them through the years.
Visitation will be from  1 pm to 4 pm, on Friday, July 8, 2016, at Pate Funeral Home, 301 South Main St., Benton, IL. A funeral service will follow the visitation at  4 pm at Pate Funeral Home.
Burial will immediately follow services at the Masonic & Odd Fellows Cemetery, Benton, IL., with military rites by the Benton American Legion Post 280, VFW Post 2671 and the United States Air Force Honors Team.
Memorial contributions may be made to the Benton Ministerial Alliance and will be accepted at the funeral home.
For more information or to sign the memorial guest register, visit www.patefh.com