Mrs. Geraldine Simmons, age 90, of Benton IL, passed away at 8:30 a.m. Sunday, August 27, 2017 at Helia Healthcare of Energy.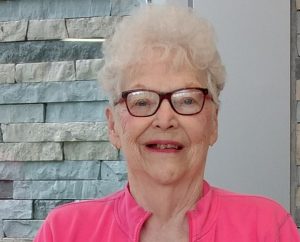 Memorial Celebration of Life Services for Geraldine Simmons and her daughter Linda Case will be held at 7:00 p.m. on Friday, October 13, 2017 at the Leffler Funeral Home of Benton, with Pastor Sammy Simmons officiating. Visitation will be from 5:00 p.m. to 7:00 p.m. Friday, October 13, 2017 at the Leffler Funeral Home.
Gerri was born on December 14, 1926 in Benton, the daughter of James Alvis Bridges and Leola Evelyn (Wills) Bridges. She was married to Charles Ray Simmons, and he preceded her in death.
She was a hard worker and worked most of her life in retail.
Mrs. Simmons enjoyed to read, exercise, play cards, listen to music, and spending time with her family. She attended the Immanuel Baptist Church of Benton.
Geraldine is survived by her son Doug Collins and wife Kathy of Scottsdale, AZ; three grandchildren: Robbie Williams and wife Kris of Galesburg, IL, Chris Collins and wife Kim of Winnetka, IL, Kelly Romanczuk and husband Paul of West Chester, PA; eight great-grandchildren: Garret Williams, Madison Williams, Casey Williams, Ryan Collins, Kate Collins, Cooper Romanczuk, Collin Romanczuk and Riley Romanczuk.
She was preceded in death by her parents; husband; a son Jeffrey Len Collins; and a daughter Linda Jo Case.
In lieu of flowers, Memorial contributions may be made to Hospice of Southern Illinois for Gerri; and to Heartland Healthcare of Galesburg for Linda; and will be accepted at the funeral home.
To leave online condolences to the family, or to share memories of Mrs. Geraldine Simmons, visit www.lpfuneralhome.com