Timothy L. "Yo Sam" Jones, 43, Christopher, IL, passed away March 29, 2016 at Franklin Hospital Emergency Room, in Benton, IL.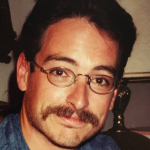 Mr. Jones was born May 25, 1972, in Mt. Vernon, IL, the son of Thomas L. Jones and Cheryl Daggs. His father preceded him in death.
He was a truck driver.
He is survived by his children, Stephanie Conner and fiance Cody Cluck, of Florida, Jennifer and Tyler Ham of Florida; his step-father, Larry Colp, of Christopher, IL; grandchildren Selena Cluck and Ayden Ham. He is also survived by several aunts, nieces, nephews and great nieces and nephews. He was preceded in death by his father, grandparents, uncles, aunts and two grandchildren.
Funeral services will be held at 1 p.m. on Monday, April 4, 2016 at Brayfield-Gilbert Funeral Home, in Sesser, IL with Brother Mark Miller officiating. Visitation will be on Sunday, April 3, 2016 from 6 p.m. to 8 p.m. at the funeral home. Burial will be at Maple Hill Cemetery, in Sesser, IL.
In lieu of flowers donations can be made to the Brayfield-Gilbert Funeral Home to help with funeral expenses. Brayfield-Gilbert Funeral Home is in charge of arrangements.

For more information go to www.gilbertfuneralhomes.com