Walter Underwood 72, passed away into the hands of our Lord on Thursday February 26, 2015 at 4:30 A.M. from stomach cancer.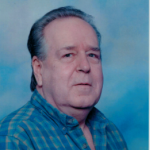 He was born December 23, 1942 in Derby, OH to the late William B. and Minnie E. (Fast) Underwood.
He leaves behind his loving wife of 23 years Wanda (Behm) Underwood, five children John Harold Underwood, David Allen Underwood, and Teresa Jett all of Ohio, Jacob Walter Underwood of Christopher, and Joshua Lee Underwood of Christopher.
Grandchildren Nicole, Danny, Bradley, and Bethany.
Also one loyal sister Sue "Virginia" Jahn and her husband Lester of Harrisburg, OH, and two sisters-in-law Ella Underwood and Linda Underwood of Ohio. Father-in-law John Behm of Valier, and numerous nieces, nephews, and other relatives and friends. And special friends Jerry and Betty of Christopher.
Walter was a Vietnam veteran of the Marine Corp. He was retired from the Grove City Ohio Police Department. He was also a member of the Valier United Methodist Church.
Walter will be remembered as a devoted and loving father and husband.
He was preceded in death by five brothers Emery, Carl, Harry, Bill, and Jim, and one sister Betty.
Funeral services will be on Sunday March 1, 2015 at 1:00 P.M. with Brother Bert Mitchell officiating. Visitation will be on Sunday March 1, 2015 from 11:00 A.M. until the time of the service at 1:00 P.M. Burial will be in the Zeigler City Cemetery.
In lieu of flowers donations can be made to the American Cancer Society or to Hospice of Southern Illinois and will be accepted at the funeral home.
For more information go to our website www.gilbertfuneralhomes.com