SESSER — Robert Allen Styve II, 54, passed away peacefully at 7:30 p.m. Sunday, May 24, 2015, at his home with his family by his side.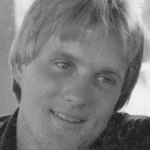 Rob was born April 25, 1961, in Melrose Park, the first son of Robert and Kay (Witcher) Styve. He lived in Melrose Park through his high school years before moving with his family to Sesser. After attending Rend Lake Community College, he enlisted in the U.S. Marine Corp where he served as an air traffic controller in Southern California. After suffering debilitating injuries in an August 1995 automobile accident he returned to Sesser to live with and be cared for by his parents.
Survivors include his mother, Kay Francis (Witcher) Styve of Sesser; three brothers, Michael (Beth) Styve of Overland Park, Kansas, Scott (Kim) Styve of Indio, California, and Brad (Julie) Styve of Thornton, Colorado; seven nieces and nephews, Michael, Kaitlyn and Kyle Styve of Overland Park, Kansas, Jake and Grace Styve of Sesser, Dalton Styve of Indio, California, and Ava Styve of Thornton, Colorado; his long-time caregivers, Mary Morefield and Kevin Miller; and numerous relatives and friends.
He was preceded in death by his father, Robert Allen Styve I; his brothers Donald and Patrick Styve; his maternal grandparents, Harry and Ida (Warner) Witcher; and his paternal grandmother, Bernice (Butler) Styve.
Private family memorial services will be at a later date.