Sharon Rose (Holman) Burton, age 70 of Benton, passed away Friday, October 14, 2016 at her home.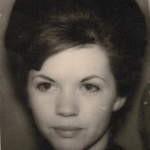 A Memorial Celebration of Life Service will be held at 2 p.m. Tuesday, October 18, 2016 at the Potter's Way Church in Frisco, with David Holman officiating.  Visitation will be from noon to 2 p.m. Tuesday at the church.
Arrangements are with the Leffler Funeral Home of Benton.
Sharon Rose Holman was born on December 19, 1945 in Pumpkin Hill, the daughter of Edgar and Fern (Fields) Holman.
Mrs. Holman was a CNA  She was a member of the First Assemblies of God Church in Benton, until it's closure.
She enjoyed reading, playing Scrabble, and loved visits from her children and grandchildren.
Sharon is survived by her children: Beth Smith and husband Scott of Benton, Scott Bailey and wife Leigh Anne of Benton, T.J. Burton of Benton; thirteen grandchildren: Meredith John Osborne and wife Cindy of Ewing, Asia Rose Bailey of Benton, Zachary Paul Ragsdale and wife Kristin of West Frankfort, Dawson Smith of Benton, Samantha Haggerman and husband Robbie of Benton, Gracey Gowler and husband Derek of San Antonio, TX, Shiloh Mocaby and husband J.R. of Benton, Kaitlyn Aiken, Chase Aiken and Carter Aiken, all three of Akin, IL, Gaige Bailey, Matyi Kays and Ryder Bailey;  four great-grandchildren: Ethan Osborne, Lily Osborne, Masan Ragsdale, Silas Gowler; three sisters: Doris Douglas of Benton, Mary Cook and husband Gary of Ewing, Joyce Gilbert and husband Russell of Effingham, IL; several nieces and nephews.
She was preceded in death by her parents; husband Tommy Hood Burton; a son Jason Paul Bailey (Aug. 5, 2016); two brothers: Russell Holman and Stanley Holman; and a sister Louise Williams.
Memorial contributions may be made to the K.J. Rocks Memorial Scholarship Fund and will be accepted at the services.
To leave the family online condolences, or to share memories of Sharon, visit www.lpfuneralhome.com