Janet Viola Leek, 78, of McLeansboro, IL passed away March 4, 2015 at St. Louis University Hospital.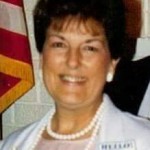 Janet was born September 18, 1936, in Christopher, IL, the daughter of Noble L. Williams and Pearle (Lohmann) Williams.
She was married to Carl Leek and he survives.
Janet worked for  Peoples National Bank in McLeansboro and was the secretary for the Ten Mile Baptist Church in McLeansboro, where she was a member. She was also a member of the Christopher Eastern Star.
Janet is survived by her children, Sherylin Bundy, of West Frankfort, Geri Rene' Owen, of McLeansboro and Jeffrey and Robin Leek, of Harvel, IL; grandchildren Rhonda and Chris Gore, Stacey Young, Robbie Edwards, Lauren Edwards, Jordan Leek, Austin Leek and Madison Leek; great-grandchildren Allison and Mark Jett, Aleah Gore, Vali Gore and Staley Alvis. She is also survived y a sister-in-law, Betty Williams, of Benton, IL and several nieces and nephews.
Janet was preceded in death by her parents and one brother, Oliver Williams.
Funeral services will be held at 2 p.m. on Sunday, March 8, 2015 at Ten Mile Baptist Church, in McLeansboro with Brother Jacob Gray officiating.  Visitation will be on Saturday, March 7, 2015 after 5 p.m. at Gilbert Funeral Home in Christopher and on Sunday, March 8, 2015 from 1 p.m. until the time of service at 2 p.m. at Ten Mile Baptist Church in McLeansboro.
Gilbert Funeral Home is in charge of arrangements.
For more information visit gilbertfuneralhomes.com.