James Ronald Phillips, Sr., age 71 of Benton, passed away at 4:35 p.m. Wednesday, October 26, 2016 at the Benton Rehabilitation and Health Care.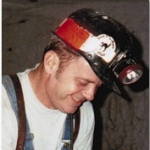 Funeral Services will be held at 11:00 a.m. Saturday, October 29, 2016 at the Leffler Funeral Home of Benton. Burial with Military Rites by the Benton American Legion Post #280, the V.F.W. Post #2671, and the Army National Guard of Marion, will be in the Masonic & Odd Fellows Cemetery in Benton.  Visitation will be from 10:00 a.m. to 11:00 a.m. Saturday at the Leffler Funeral Home.
James was born on November 1, 1944 in Chicago, IL, the son of Vernon Phillips and Margaret (Huth) Phillips.
Mr. Phillips served his country in the U.S. Army from February 1, 1962 to March 11, 1965, where he attained the rank of Private First Class.
His working career was in the coal mines, having worked and retired from Amax Coal Company near Keensburg, IL, where he was a member of the United Mine Workers of America.
He enjoyed hunting, horseback riding, and working in coal mining.
James is survived by three sons: James R. Phillips, Jr. of Benton, Danny Phillips and wife Brittany of Benton, Kyle Darnell of Logan; grandchildren: Marissa Phillips, Abigail Phillips, Brendan Schell, Jordan Prosise, Sydney Phillips, Brooklyn Phillips, Kyra Phillips, Charles Schram, Jr., Autumn Schram, Brittany Schram, Tyler Mersinger; girlfriend Alice Shanks of Benton.
Mr. Phillips was preceded in death by his parents; two brothers, and a son.
To leave the family online condolences, or to share memories of James, visit www.lpfuneralhome.com