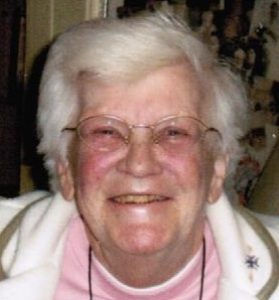 Frances Lucille Tittle, age 86, of Sesser IL, died peacefully at her home with her son Lloyd and her daughter Lola by her side, at 11:15 p.m. Monday, August 14, 2017.
A Private Family Graveside Service will be held at 1:00 p.m. Friday, August 18, 2017 at the Zeigler Cemetery. There will be no visitation. Family and friends are to go directly to the cemetery. Funeral arrangements are with the Leffler Funeral Home of Benton.
Frances Lucille Tittle was born on September 18, 1930 in Chicago, the daughter of Samuel Walter Barr and Katherine (Powell) Barr. She married Vernon Tittle on February 21, 1949, and he preceded her in death on June 3, 2001.
She was a homemaker, and enjoyed cooking, eating out, watching the Food Channel, and playing slot machines.
She is survived by five children: Eileen (Walter) Perreault, Louisville, KY, Vernon Alex (Lenore) Tittle, Downers Grove, IL, Deloris Fisher, Sandwich, IL, Lola Hanson and partner Roger, Sesser, IL, Lloyd Wayne Tittle, Sesser, IL; nine grandchildren: Marcy Kearns and partner Robert, Rockland, MA, Jennette Fisher and partner Eddie, Chicago, Leo Levandowski and partner Ericka, Marion, IL, Lisa Steinmetz and partner Jeff, Johnston City, IL, Daniel Barbier, David Barbier, Louisville, KY, Russell (Kat) Tittle, JR, Paducah, KY, David Gushi and Donnie Gushi, both of Downers Grove, IL; twenty-one great-grandchildren.
She was preceded in death by her parents; husband; two brothers: Samuel Earl Barr, Leonard Charles Barr, Sr.; four sisters: Pearl Barr, Gertrude Irene Speir, Beatrice "Bea" Canada, Genevive I. Conrad; three sons: James Allen "Jimmy" Tittle, Wesley Robert Tittle, Russell Lee "Russ" Tittle; and a great-grandson Eli Levandowski.
To leave online condolences to the family, or to share memories of Frances, visit www.lpfuneralhome.com