Marion "Lynn" K Shotts, 73 of Benton IL passed away on Thursday,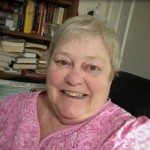 December 22, 2016 at Herrin Hospital, surrounded by her family. Lynn was born December 10, 1943 in Benton to George and Virginia (Brown) Knapp.
She loved Swimming and was an instructor at Camp Cedar Point for the Girl Scouts and later for Macher Swim School in Columbia Missouri.
She attended the University of Oklahoma and graduated with a BS degree in Microbiology. She worked as a lab technician for the Health Department in Albuquerque New Mexico, returned to University of Oklahoma and received a masters Degree in Environmental Sanitation.
She met Jamie Shotts in Norman, OK., and they were married in Benton January 19, 1969. She worked as a Sanitarian for the Illinois Department of Health in Marion IL., until moving to Columbia, MO., where Allan and Julie were born. She lived in the country where she loved to have her favorite chickens; ducks and geese numerous other pets and a large garden while developing lifelong friendships in the area.
She worked at the Swim School until forming a product demonstration business "Presentations Limited" for the local Businesses. She moved back to Benton, worked as an Instructor at Rend Lake College and at Wal-Mart, became an ardent Saluki fan and lived out her life in the house that she had grown up in.
Lynn is survived by her husband Jamie, Son Allan (Kelly) Shotts, Daughter Julie Shotts and two grand children, Ally and Kolt.
She was preceded in death by her parents George and Virginia Knapp and Brother Don Knapp.
Funeral Arrangements under the direction of Pate Funeral Home, 301 S. Main St., Benton, IL.  As per her wishes she will be cremated and a Celebration of Her life will be scheduled in the future.
Memorial contributions may be made in Lynn's honor to The Benton Public Library Benton, IL., First Baptist Church of Benton, IL., or The Turtle Hospital Marathon, FL.