Richard H. Holt, 65, of Christopher, IL, formerly of Bloomington, IL, passed away Wednesday, July 20th following a courageous 9-month battle with cancer.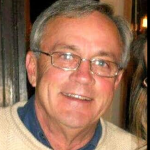 Rick was born August 3, 1950, in Centralia, IL, to Richard "Tex" Holt and Mary Holt.  He graduated from Centralia High School in 1968.  He completed a tour of duty with the US Army in Vietnam from 1970-1971. Upon his return, he attended SIU Carbondale and spent several years teaching special education in Carbondale and Schaumburg. Rick left teaching  in 1979 to open his business, Functional Furniture, in Bloomington, where he was able to pursue his passion as a master carpenter and cabinet maker.
He moved his business to Christopher in 2004, and married Diane Holt on February 14, 2007.  Since that time, he has added prize-winning jelly maker (Ma Holt) to his resume, and has been actively involved in the Lion's Club of Christopher.  He was also actively involved in the Young Musicians Project based in Centralia, without his tireless efforts, support, and fundraising efforts, including the "Bathhouse Band Reunion Jam" from 2011-2012 and "Missing the Sixties" from 2014-2016, the Young Musicians Project would not be as successful as it is.
Rick was a proud member of the Disabled American Veterans Franklin County Chapter 51, whose single purpose was empowering disabled Veterans and their families to lead a high-quality of lives with respect and dignity. Rick gave tirelessly of himself during his time with the DAV in his service to our ill and injured heroes, which he was one of. Rick spent hours upon hours raising money to help those in need and visiting our Veterans in the hospital and in long-term care. He held several titles during his tenure with the organization to include most recently as the Adjutant/Treasurer. A title he held for several years as he was the glue that held the chapter together. The most important title he held was mentor and friend to all those he encountered. His patriotic sense of compassion was exhibited daily and his leadership and friendship will be greatly missed but never forgotten.
Rick was a loving husband, father, brother, and uncle.  He never met a stranger, and will be missed by all who knew him and loved him.
He is survived by his wife of nine years, Diana Lambert Holt; daughters Elizabeth (Brian) Holt-Schwab of Chicago, and Ericka (Craig) Louer of St. Louis; step-sons Beau (Jamie) Forbes of Oak park, and J.J. Forbes of Royalton; one grandson Ronan Alexander Forbes, brothers John (Pam) Holt of Carbondale, and Jim Holt of Centralia; nephews & nieces Philip (Jillian) Holt of Seattle, WA, Dion (Marianne) Holt-Phoenix of Gig Harbor, Wa, Vanessa Holt-Phoenix of Murphysboro, Cassy & Matt Gregge of Herrin, Colleen Price of Carterville, Nick Dodson of Arizona.
He was preceded in death by his parents, and one brother Charles "Chuck" Holt.
Gilbert Funeral Home in Christopher is handling the arrangements.
The family would like to thank the entire staff at Carbondale Memorial Hospital for their exceptional care over the past month, and his team at Siteman Cancer Center in St. Louis.  Rick's wishes were to be cremated, a celebration of life for all who knew and loved him will be held at a future date.  Memorials can be made in his name to the Disabled American Veterans Charity (DAV) and will be accepted at the Gilbert Funeral Home in Christopher.
And as Rick would say, "Once an Orphan, always an Orphan"
For more information go to our website www.gilbertfuneralhomes.com .