Kathleen "Katy" Ann Lewis, 61, of Sesser, IL, passed away on August 26, 2016 at Marshall Browning Hospital, in Du Quoin, IL.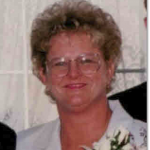 Katy was born on July 25, 1955 in Pinckneyville, IL, the daughter of Charles Flanary and Dorthea (Koontz) Flanary.
She married William "Bill" Lewis on October 24, 1972 and he survives of Sesser.
Katy served as a board member for the Horse Prairie Cemetery and the Sesser Fire Protection District.  She was a volunteer at the Sesser Library and the Sesser-Valier Holiday Tournament.  She was also a member of the Sesser Homecoming Association and Clerk for Barren Township. She was a homemaker.
Katy is survived by her children, Melody Lewis, of Sesser, Joshua (Rachel) Lewis, of Scheller, IL and Andrew Lewis, of Sesser; grandchildren Blaine Leslie, Jared Leslie, Sophia Lewis, Nealia Lewis, Isaac Lewis and Levi Lewis; brothers Randol (Mildred) Sumner of Pinckneyville and Bryan Flanary of Pinckneyville. She is also survived by several nieces and nephews. She was preceded in death by her parents.
Funeral services will be held at 11 a.m. on Tuesday, August 30, 2016 at Hazel Dell Free Will Baptist Church, in Sesser, with the Rev. Ernie Lewis and the Rev. Harl Ray Lewis officiating. Visitation will be on Monday August 29, 2016 from 4 p.m. until 8 p.m. at the Brayfield-Gilbert Funeral home in Sesser and on Tuesday from 10 a.m. until 11 a.m. at the church. Burial will be at Horse Prairie Cemetery, in Sesser.
In lieu of flowers donations can be made to the Sesser Public Library and will be accepted at the funeral home. The family would like to thank the staff at Marshall Browning Hospital for their care and hospitality during their time of need.
Brayfield-Gilbert Funeral Home, in Sesser, is in charge of arrangements.
For more information visit www.gilbertfuneralhomes.com.