Charles "Frank"  F. Rich, 78, of Benton, passed away at 2:47 p.m., Sunday,  August 21, 2016, at Good Samaritan Hospital in Mount Vernon, IL.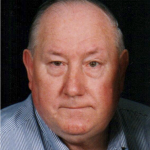 Frank was born on February 27, 1938, to Barney and Ethel (Shaw) Rich in Benton, IL.  On May 26, 1967, he married Barbara Miles and she survives.  He retired as a janitor from the Benton Middle School.
 He was a member of the Benton Elks. Frank loved sports and was an avid St. Louis Cardinals Baseball fan. He also enjoyed researching family genealogy.
 Frank is survived by his loving spouse Barbara, two sons, Steven Rich, and wife Cindy of Ashmore, IL, Scott Rich and Jackie Prahl of Paxton, IL; four grandchildren, Bryn Rich, Brock Rich and wife Jenna, Carson Rich and Jake Rich; three brothers, Donald Rich and wife Karen of Warrenton, MO, Ronnie Rich and wife Teri of Warrenton, MO and Loren Richand wife Sheila of Benton, IL; one sister, Verlia Dobsch and husband Bill of Wright City, MO; four brother-in-laws, Irvin Miles and wife Linda, Dean Miles and wife Beverly, Allen Miles and wife Betty and Tom Sieveking and wife Nancy; four sister-in-laws, Carol Patterson and husband Bob, Betty Phillips, Beverly Eldridge and husband Jim and, Eva Rexroad.
 He was preceded in death by his parents, Barney and Ethel Rich and a brother, Dennis Rich.
Services have been entrusted to Pate Funeral Home, Benton IL.
 Visitation will be held Wednesday, August 24, 2016, from 9:00 a.m. to 11:00 a.m. at Pate Funeral Home, 301 South Main St., Benton, IL.
Funeral services will be held on Wednesday, August 24, 2016, at 11:00 am at the Pate Funeral Home, Benton, IL, with the Rev. Michael Kramer, officiating.
 Burial will take place in the Masonic and Odd Fellows Cemetery.
 Memorial contributions may be made to the Benton Elks and will be accepted at the funeral home.
Online condolences can be given at www.patefh.com.