Sue Ann Travelstead, 58, of Sesser, IL, passed away June 9, 2015 at her home.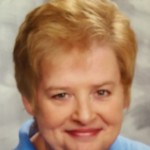 Sue was the treasurer for the City of Sesser.
She was born July 14, 1956 in Christopher, IL, the daughter of Harold Furlow and Flora Mae (Neralich) Furlow.
Sue married Raymond Travelstead on May 3, 1974 and he survives in Sesser.
Sue is survived by one son Jerry and Lexy Travelstead, of Pinckneyville; three grandchildren, Alaina Travelstead, Landon Travelstead and Jace Travelstead; two sisters Sherry Johnson and husband Steve, of Benton, IL and Bernadine Braddy and husband Larry, of Benton.
She is also survived by special lifelong friends Carmel and Faron Kelley, of Sesser.
She was preceded in death by her parents.
Funeral services will be held at 11 a.m. on Saturday, June 13, 2015 at Brayfield-Gilbert Funeral Home, in Sesser with the Rev. Harl Ray Lewis officiating. Visitation will be on Friday, June 12, 2015 from 6 to 8 p.m. at the funeral home.
Burial will be at Maple Hill Cemetery, in Sesser.
In lieu of flowers donations can be made to the Valier First Baptist Church and will be accepted at the funeral home
Brayfield-Gilbert Funeral Home, in Sesser, is in charge of arrangements. For more information go to www.gilbertfuneralhomes.com.