Cletus Earl McBride, 78, of Sesser, IL passed away at 10:09 p.m. on January 13, 2016 at St. Louis University Hospital, in St. Louis.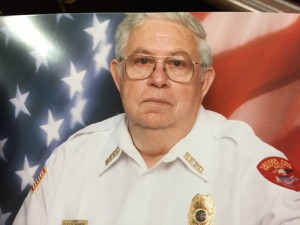 He was born July 14, 1937 in Franklin County, IL the son of Burtis "Big Boy" McBride and Lena Mae (Walker) McBride.
Cletus worked at Butler's, Bracy's and Bowlin's Foodland, all in Sesser and was a member of the Sesser Fire Protection District for 36 years, and was fire chief for the past 30 years.
He married Constance "Connie" (Allen) McBride on August 24, 1958 and she survives of Sesser.

He was a member of the First Baptist Church, in Sesser.
Cletus is also survived by his children, Cletus Eric McBride, of Sesser and Lisa Marie Travelstead, of Herrin, IL; grandchildren Nicole (Jeremy) Shelton, of Herrin and Ashley (Geoff) Hammonds, of Herrin; great-grandchildren Gage Shelton, of Herrin and Sophie Shelton, of Herrin and one great-grandchild on the way; niece and nephew Paula Horn, Sesser and Glenn Gulley, Sesser.
Cletus was preceded in death by his parents and one sister, Marceline Gulley.
Funeral services will be held at 1 p.m. on Sunday, January 17, 2016 at Brayfield-Gilbert Funeral Home, in Sesser with the Rev. Harl Ray Lewis and Brother Tom DeWitt officiating. Visitation will be from 5 to 8 p.m. on Saturday, January 16, 2016 at the funeral home. There will be a firefighters walk-through at 7 p.m. on Saturday. Burial will be at Maple Hill Cemetery, in Sesser.

 In lieu of flowers donations can be made to the Sesser Firefighter's Association and will be accepted at the funeral home.
 Brayfield-Gilbert Funeral Home, in Sesser, is in charge of arrangements. For more information go to www.gilbertfuneralhomes.com