Robert V. Rogers, better known as "Foulball" or "Valjean", passed away suddenly January 22, 2015.  He was found unresponsive in his vehicle slumped over the steering wheel by a passer-by.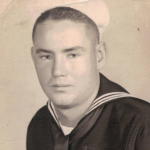 He was born March 18, 1930 at home to Oliver Evan and Mary L. (Campbell) Rogers who preceded him in death in 1995.  He was also preceded in death by a sister Betty K. Moschino, nieces Lorraine Johnson, Megan Culver, and Ashley Biggs and an infant sister Alpha Nadine Rogers.  He is survived by one brother Richard (Sue) Rogers of Texas, three sisters Maxine (Earl) Giacomo of Mulkeytown, Wanda (Richard) McReaken of Zeigler, and Connie (Fred) Sample of Benton.
He was a retired 48 years from the United States Navy after serving 23 years active duty.  He served on numerous cruises.  Upon his retirement he returned to enjoy fishing, hunting, and gardening.  In his later years he enjoyed playing Bingo at Marion KC's and getting his lottery tickets and his daily visits to Cooksey's Bait Shop to visit with the owners and longtime friends Ron and Carol Reed.
His extended family included nieces and nephews Ella (Charles) Culver and their children Jordan Culver and Ashton Culver, Bob (Mary) Giacomo and their children Josh (Beth) Giacomo, Sarah (Keith) Shasteen and son Logan, Laura Giacomo, and Joe Giacomo, Theresa (Jeff) Thompson and their children Christopher Thompson and Michael Thompson, Elena (Andy) Bilger and sons Christian Bilger, Esequel Bilger and Andres Bilger, Rosa (Steve) Nerio and girls, Tim McReaken, Rhett (Brenda) McReaken and children Jessica (Brandon) Melvin and Brett McReaken, Jason (Heather) Sample and son Derek Sample, Dana (Maria) Bonifacio-Sample, Kathy Esposito and children Chasity (Brandon) Shaffer and their children Savannah Smith, Amber Smith, Grant Smith, and Ashley Smith, Nicole (Reuben) Washington and  their children Wardell Williams, Jayla Williams, and Brittany Washington, Richard Johnston and their children Rachael Johnston and Keenan Johnston, Angela (Brent) Gossett and their children Lorrie (Adam) Horton and sons Jude Crawford and Gabriel Horton, Emily Gossett, Madeline Gossett, and Grace Gossett.
In honoring Valjean's wishes, there will be no visitation or services.  It was also his wish to be cremated and that was handled by the Gilbert Funeral Home of Christopher, IL.