Norma Lucille Dame, 65, of Christopher, IL, passed away at 2:35 p.m. July 26, 2016 at Centralia Manor Nursing Home.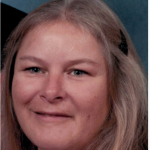 She was born February 23, 1951 in Olmsted, IL, the daughter of Henry Cecil Dame and Norma (Dick) Dame.
She was the treasurer for the Southern Illinois Earth Science Club.
She is survived by a son, Mike and Chandra Dame, of Sesser, IL; grandchildren Aiden Smialek and Nora Dame; brothers James David Dick, of Metropolis, IL and Christopher Hise, of Christopher; special friend Mary Hargett, of Benton, IL. She was preceded in death by her parents and one special friend Edward William Leber.
A celebration of life service will be held at 1 p.m. on Saturday, July 30, 2016 at Gilbert Funeral Home, in Christopher, with Brother Jason Todd officiating. Visitation will be at the funeral home on Saturday, July 30 from 12 noon until the time of the service. In lieu of flowers donations can be made to Relay for Life and will be accepted at the funeral home.
Gilbert Funeral in Christopher is in charge of arrangements. The family would like to express their appreciation to the staff at Centralia Manor for the excellent car provided to Norma Lucille.
For more information go to www.gilbertfuneralhomes.com.