Heather Lynn Basenberg, 27, of Du Quoin, IL, passed away August 28, 2016 at Memorial Hospital of Carbondale.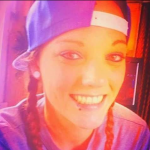 Heather was born March 10, 1989 in Berwin, IL.
She is survived by her father William D. and Lindsay Basenberg, of Marion, IL and her mother Donna Holley and Todd Miller, of Du Quoin; brothers and sisters Keith Holley, of Marion, Lashonda and Ronnie Orr, of Energy, William D. Basenberg, Jr., of Energy, IL, William Boone Basenberg, of Crab Orchard, IL; step-brothers and step-sisters David Gilliam, of Mt. Vernon, IL and Tawnie Miller, of Mulkeytown, IL; nieces and nephews Jacob Orr, Ayden Orr, Trevor Basenberg, Landon Orr, Riley Basenberg, Drake Vorhees.
Heather was a CNA.
Funeral services will be held Thursday, September 1, 2016 at 1 p.m. at Gilbert Funeral Home in Christopher with Brother Mark Miller officiating. Visitation will be at the funeral home from 11 a.m. until the time of the service at 1 p.m. Burial will be at Mulkeytown Cemetery.
In lieu of flowers donations can be made to the Gilbert Funeral Home to help with funeral expenses.
Gilbert Funeral Home is in charge of arrangements.
For more information go to www.gilbertfuneralhomes.com.