Patrick "Pat" Todd Styve, 51, of Sesser, IL, passed away July 29, 2014 in Sesser, IL.
He was born July 8, 1963 in Melrose Park, IL.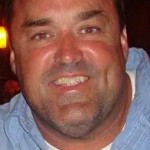 Pat was a 1981 graduate of Sesser-Valier High School, Sesser, IL and a 1985 graduate of Southern Illinois University, Carbondale, IL, where he earned his bachelor's degree in education.
Pat started his teaching career in Belleville, IL, where he taught elementary and middle school mathematics. After 15-years of teaching he changed careers, joining an insurance agency which took him to Palm Springs, CA, then back to Sesser, IL.
Pat was a loving father whose life centered on his son Jake and daughter Grace. He loved spending time with his brothers and was a loyal friend to many. He enjoyed spending time on the lake, traveling, music and golf.
Pat is survived by his children, Jake and Grace Styve of Sesser, IL; mother, Kay Styve (nee Witcher) of Sesser, IL; brothers, Robert Styve II, Sesser, IL; Michael Styve (Beth, Michael Jr, Kyle & Kaitlyn) of Overland Park, KS; Scott Styve (Kimberly & Dalton) of Cathedral City, CA; Brad Styve (Julie & Ava) of Thornton, CO; and numerous cousins, friends and acquaintances.
He was proceeded in death by his father, Robert Styve of Sesser, IL; brother, Donald Styve of Austin, TX; maternal grandparents, Woodroe and Ida Witcher (nee Warner) of Sesser, IL; paternal grandmother Bernice Styve (nee Butler) of Forest Park, IL;  uncles, Charles "Spike" Witcher of Sesser, IL; Dugan Styve of Franksville, WI;
Visitation will be on Friday, August 1, 2014, from 4 p.m. to 8 p.m. at Brayfield-Gilbert Funeral Home, 102 W Callie, Sesser, IL, 62884. The funeral will be held on Saturday, August 2, 2014, at 11 a.m. at Brayfield-Gilbert with the Rev. Kirk Packer officiating..  Burial immediately following funeral services at Maple Hill Cemetery, Sesser, IL.
In lieu of flowers, donations can be made to the Jake and Grace Styve Education Fund online (http://www.gofundme.com/cbzinw) or at the funeral home.

Brayfield-Gilbert Funeral Home is in charge of arrangements.