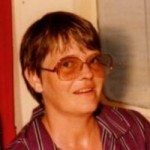 Barbara B. Huffine, 72, of Macedonia, passed away at 5:30 p.m. on Thursday, December 8, 2016, at her residence.
She was born on May 20, 1944, to Vern and Beth (Lewis) Billings in Mendota, IL. Barb worked in the mail room for Unocal Corp. She married Thomas Huffine in 1962 and he survives.
She was enjoyed quilting, knitting, crocheting, horseback riding and reading. She also enjoyed playing and working on the computer.
Barb was a loving wife, mother and grandmother.
Barbara is survived by her loving husband, Thomas Huffine, Sr., of Macedonia, IL; two sons, Thomas Huffine, Jr. and wife Holly, of Burlington, WI, Anthony R. Huffine of Rosco, IL; one daughter, Pamela Huffine of Macedonia, IL; one granddaughter, Amber Huffine and two sisters, Patricia Phillips of Champaign, IL and Jaquline Abbott of Champaign, IL.
She was preceded in death by her parents, Vern and Beth Billings.
Services have been entrusted to Pate Funeral Home.
Visitation will be held Saturday, December 10, 2016, from 2:00 p.m.- 3:00 p.m., at Pate Funeral Home, 301 S. Main St., Benton, IL.
Funeral services will be held on Saturday, December 10 2016, at 3:00 p.m. at Pate Funeral Home, Benton, IL.
Memorial contributions may be made to the Salvation Army and will be accepted at the funeral home..
Online condolences can be given at www.patefh.com.