SESSER — Mollie Atchison, 97, passed away Tuesday, April 15, 2014, at her home.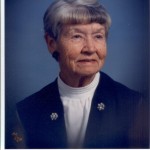 Mollie was an LPN at miners hospital in Christopher and was a member of First Baptist Church in Sesser.
She was born to Hop and Rosie (Pippin) Grogan in Adams, Tenn.
Mollie married Roy Prater on Jan.24, 1933, and he preceded her in death June 12, 1960. She then married Paul Atchison on Dec. 8, 1963. He died April 1, 1976.
Survivors include children, a daughter, Judy and husband, Maurice Kunkel of Palmdale, Calif., two stepdaughters, Sheila and Norman Brown of Marion, and Sharon Atchison of Arlington, Texas.  Also surviving is 13 grandchildren, 25 great-grandchildren, 18 great-great-granchildren, a daughter-in-law, Joann Prater Saunders of Noblesville, Ind. and brother Lester and Donna Grogan of Valier.
Mollie was preceded in death by her parents, by a daughter, Shirley Beskidniak, her son, Ronald Dean Prater, stepdaughter, Sandra Shumate, three sisters, Mary Palmer, Margie Maceri and Joyce Ann Grogan and three brothers, John, Eugene and Billy Grogan.
Mollie was very active with her garden club the Seeders and Weeders and in her younger years a motorcycle club. She was very dedicated to her church helping with many projects for the Lord.
She could usually be seen working in her yard which gave her much pleasure. Mollie will be sadly missed be many.
Mollie is now the overseer of the beautiful gardens in heaven for all those who have faith.
Funeral services will be at 1 p.m. Saturday, April 19, in Brayfield-Gilbert Funeral Home, Pastor Tom DeWitt officiating. Interment will be in Maple Hill Cemetery. Visitation will be from 10 a.m. to 1 p.m. Saturday at the funeral home.
Memorials may be made to First Baptist Church in Sesser and will be accepted at the funeral home.
For more information, visit gilbertfuneralhomes.com.