EWING — Ted Denham, 79, passed away Saturday morning, July 19, 2014, in Good Samaritan Regional Health Center in Mount Vernon.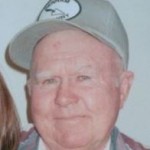 Ted was born Feb. 21, 1935, in Frisco, the son of Orville and Vada (Cunningham) Denham.
He married Maxine (Fagan) on Feb. 5, 1956, in Corinth, Mississippi.
Mr. Denham was owner and operator of Denham Masonary from 1971 to 2012.
He was an avid gun enthusiast, and loved the outdoors. He was a lifetime member of the NRA. First and foremost he was a family man.
Mr. Denham is survived by his wife, Maxine Denham of Ewing; three daughters, Toni Metheney and husband, Kirbie of McLeansboro, Terri Ladage and husband, Duane, of Loami, and Tracy Fletcher of Gulf Shores, Alabama; five grandchildren, Laura Halstead and husband, Travis of Dwight, Lisa Offermann and husband, Ryan, of Bourbonnais, Cortne Fletcher of Benton, Sadie Fletcher of Benton, and Hunter Fletcher of Benton; four great-grandsons, Landon, Rylan, Blayze and Breckin; and brothers and sisters, Shirlene Capps and husband, Burton of Whittington, Diana Neal and husband, DeWayne of Ina, Jack Denham of Whittington, and John Denham of Whittington.
Mr. Denham was preceded in death by his parents.
Funeral services will be held at 11 a.m. Tuesday, July 22, in Morton & Johnston Funeral Home in Benton, with the Rev. Mark Minor officiating. Burial will be in the Oak Hill Cemetery in Frisco. Visitation will be from 9 to 11 a.m Tuesday at Morton & Johnston Funeral Home in Benton.
Memorial contributions in Mr. Denham's memory may be made to the American Lung Association, and will be accepted at the funeral home.