Shirley Ann (Ryan) McCann, 87, 1201 South Main, Benton, IL, passed away at 9:30 p.m. on January 19, 2017, at Kirkwood Corners in Lee, New Hampshire.
Mrs. McCann was born January 13, 1930 in Benton, IL the only child of Robert Percy and Leota (Doty) Ryan. She married Charles E. McCann on October 2, 1948. Both of Mrs. McCann's parents and her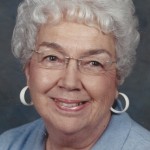 husband preceded her in death.
Mrs. McCann graduated from Benton High School in 1947 and attended Southern Illinois University, Carbondale. She and Charles, a pharmacist, owned and operated McCann Drug on the public square in Benton for many years.
Mrs. McCann was the first woman elected to Benton City Council. As a member of the city council, she acted as the liaison between the city and Benton Neighborhood Program for the Elderly and in 1979 became Director of Franklin County Senior Services (Wit and Wisdom) in West Frankfort, IL. She served the senior citizens of the county in that capacity for 20 years, retiring in 1999.
She was a board member of the South Central Regional Transit Board (SCT) centered in Centralia, IL but serving southern Illinois. After her retirement, she continued to serve on the Volunteer Services for seniors and the transit boards. She was also a member of the Rotary Club and the Benton Elks where she served as a board member.
Surviving Mrs. McCann are three children: Lorrie McCann, Winchester, VA; Holly McCann, Kensington, NH; and Christopher McCann, Coulterville, IL. She also leaves behind 11 grandchildren, 16 great grandchildren, and 1 great-great grandchild.. Two sons, Charles Ryan McCann and Jon David McCann preceded her in death.
Visitation will be held from 5:00 to 8:00 p.m. Friday, January 27, 2017 at the Pate Funeral Home, 301 S. Main St., Benton, IL. A private graveside service will be held at Masonic and Odd Fellow Cemetery, Benton, IL.
Memorial contributions may be made in Mrs. McCann's honor to the Franklin County Senior Services or Meals on Wheels program and will be accepted at the funeral home.
Online condolences may be expressed at www.patefh.com.