Gertrude "Gertie" Eickelman, 95, of Christopher, IL passed away on Sunday April 15, 2018.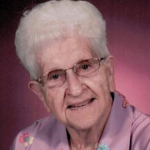 She was born on March 6, 1923 in Logan, IL to Willie and Jess (Clark) Kirkman.  She married Stanley Eickelman and he preceded her in death on July 5, 1986.
She is survived by her grandson Bill (Jacque) Matyi of Johnston City; two great grandsons Drake and William Matyi of Johnston City; special friends Dolores Mikalauskis of Christopher and Madyson Wittenbrink of Mt Vernon; and several nieces and nephews.
She was preceded in death by her parents, husband, one son Michael Eickelman and several brothers and sisters.
She was a member of the St Andrew Catholic Church in Christopher and a Charter Member of the Zeigler Eagles.
Funeral services will be on Wednesday April 18, 2018 at Noon at the Gilbert Funeral Home in Christopher with Father Urban Osuji officiating.  Visitation will be Wednesday from 11:00 AM until the time of the service at Noon. Burial will be at St Andrew Catholic Cemetery in Christopher.
In lieu of flowers donations can be made to the St Andrew Altar Society and will be accepted at the funeral home.
For more information go to our website www.gilbertfuneralhomes.com