Ethel Jean Warren, age 75, of Benton IL; passed away at 1:06 p.m. Thursday, January 11, 2018 at SIH Memorial Hospital of Carbondale.
Funeral services will be held at 2:00 p.m. Sunday, January 14, 2018 at the Leffler Funeral Home of Benton, with Rev. Kent Dunford and Rev. Harlen Johnson officiating. Burial will be in the Phillips Cemetery near Ewing.  Visitation will be from 6:00 p.m. to 8:00 p.m. Saturday evening, and from 1:00 p.m. until the funeral hour on Sunday at the Leffler Funeral Home.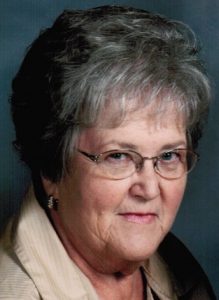 Jean was born on August 29, 1942 in West Frankfort, IL, the daughter of Jess Boswell and Irene (Eubanks) Boswell.  She married Curtis Arlen Warren on September 23, 1966 and he survives.
She retired from Benton District 47 where she was a bus driver for 30 plus years. She was also a former secretary with Freeman Coal Company General Dynamics Division, secretary with Franklin Hospital, teller with Bank of Benton, and was Vice-President of Warren Excavating of Benton.
Jean was a member of the First Free Will Baptist Church of Benton. She loved her church and enjoyed gospel singing.
She and her husband Curt enjoyed traveling, camping, and spending time with their grandchildren.
Surviving is her loving husband of 51 years, Curt Warren of Benton; a daughter Sandy Shortland and husband Bo of Herod, IL, and their children Travis Shortland and wife Megan, Emily Spencer and husband Jessie; two sons: Bryan Warren of Cornelius, NC, and his children Noah, Curtis, and Shelby Warren; Darren Warren and wife Mandy of O'Fallon, MO, and their children Zachary and Brady Warren; six great-grandchildren: Collin, Kadynce and Logan Shortland, Tanner, Sydney and Drake Spencer, and a new great-grand baby on the way; two brothers: Rodger Boswell and wife Angie of O'Fallon, IL, Marvin Boswell and wife LulaBell of Christopher; a sister Connie Kay Brandelise of Sesser; and several nieces and nephews.
She was preceded in death by her parents; a step-son Kevin R. Warren
Memorial contributions may be made to the First Free Will Baptist Church of Benton, and will be accepted at the funeral home.
To leave online condolences to the family, or to share memories of Jean, visit www.lpfuneralhome.com.