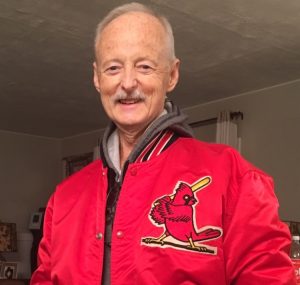 Donald Gene Rumsey, born May 9th, 1952 to Junior and Ruth (Beames) Rumsey, left this world peacefully on Tuesday, December 5th at 1:55 p.m. in Herrin Hospital.
Gene is survived by his wife of 45 years, Susan (Loftus). He is also survived by his daughter Tiffany Williams, her husband Robert and their daughter Brooklyn, sons Harrison and Jase. Also surviving is his son Dallas, Dallas' wife Lauren, and their sons Kaede and Reid. He is also survived by his Aunt Anna Lois Rumsey, and double cousins N. Wayne Rumsey, Joyce Rumsey, and Sue (Don) Loudermilk. Also surviving is his brother and sisters, James, Sheila, Gayla, Roberta, Sara, and his extra special sister Traci.
Donald Gene, DG, Genker, Geno or Pop (he answered to them all) was a very avid Cardinals baseball fan. He particularly enjoyed the days of Jack Buck and Mike Shannon on the AM radio. Gene also enjoyed fishing, hunting, and spending time on the beach with his wife Susan. He loved spending summer afternoons in the back yard by the pool, listening to the radio and cooking on the grill.
Donald Gene was employed at General/Continental Tire for 39 years, where he was a very dependable, dedicated worker. DG worked whatever schedule was needed to support his family.
Donald Gene's wishes were to be cremated with no formal funeral. A graveside ceremony will be held at a future date. In lieu of flowers, donations can be made to Hospice of Southern Illinois, or to his grandchildren's education fund.
Arrangements are with the Leffler Funeral Home of Benton.
To leave online condolences to the family or to share memories of Donald Gene, visit www.lpfuneralhome.com