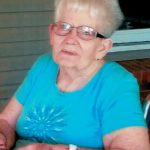 Georgia Olson, 88, of Sesser, IL, passed away on Friday November 10, 2017 at Helia Healthcare in Benton.
She was born March 7, 1929 in Cairo, IL to James Orville Sowders and Helen (Berry) Stewart.  She married Junior Olson and he preceded her in death.
Survivors include her children Edgar (Shirley) Bledsoe of Sesser, Helen Seigart of Sesser, James (Jo) Bledsoe of Thebes, and Claudia (Patrick) Grubbs of Christopher; one sister Barbara (Donald) Atchison of Sesser; and several grandchildren and great grandchildren.
She was a homemaker.
She was preceded in death by her parents, husband, one sister Florence Haynes, and three brothers Zollie Stewart, Bill Stewart, and Kenneth Stewart.
Funeral services will be on Tuesday November 14, 2017 at the Brayfield-Gilbert Funeral Home in Sesser with Brother Larry Cook officiating.  Visitation will be on Tuesday November 14, 2017 from 11:00 AM until the service time at 1:00 PM.  Burial will be at Maple Hill Cemetery in Sesser. 
For more information or to leave a condolences, please click on our website gilbertfuneralshomes.com