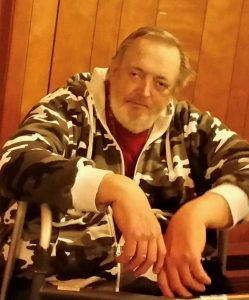 Eugene "Bear" S. Braden Jr., of Valier, passed away on Monday October 9, 2017.
He was born January 6, 1948 in Christopher to Eugene "Red" and Mary (Trbovich) Braden. He married Dale Ann (Furlow) Braden on April 5, 1974.
Survivors include his wife Dale Ann Braden of Valier, one daughter Michelle Hamm of Sesser; one grandson Kody Killgrove of Mulkeytown; one sister Sue (Jim) Hastings of Mulkeytown; three sister-in-laws Darlene Furlow of Christopher, Diana Ingersoll of Christopher, Debbie Sisney of Mulkeytown; one brother-in-law Donnie Furlow of Coello; and several nieces and nephews.
He was a retired Correctional Officer at the Federal Penitentiary in Marion, IL He was a member of the American Legion and The Italian club.
Funeral services will be on Friday October 13, 2017 at Noon with Rev. Daniel Ison officiating. Visitation will be on Friday October 13, 2017 from 10:00 AM until Noon. Burial will be in Maple Hill Cemetery in Sesser.
In lieu of flowers donations can be made to The Italian Club Christmas for Kids and will be accepted at the funeral home.
For more information, please visit our website http://www.gilbertfuneralhomes.com/